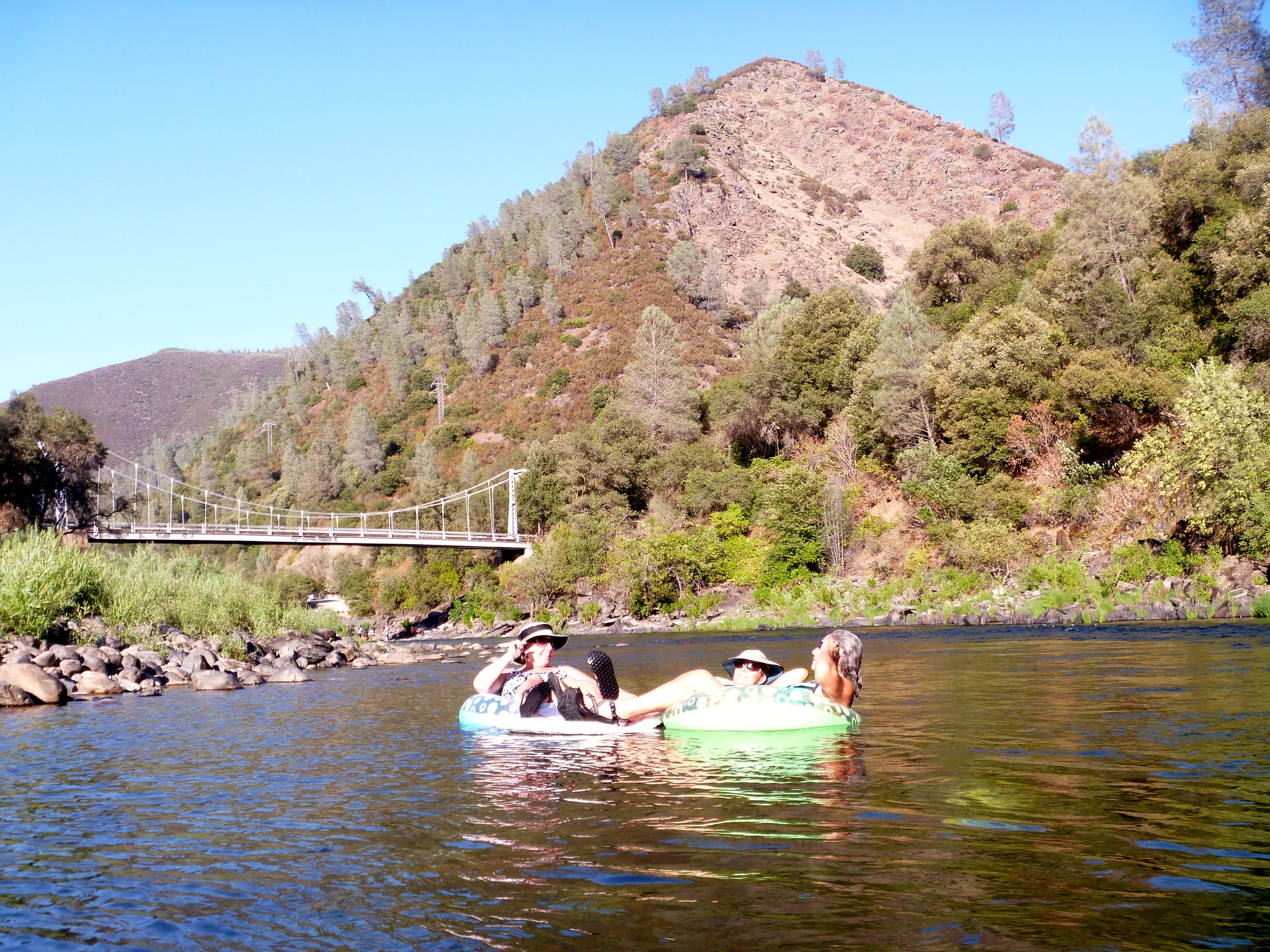 Address:
Bureau of Land Management McCabe Flat Campground Briceburg, CA 95345
Latitude/Longitude:
37.59659, -120.00349
Directions:
From the city of Merced, located on U.S. Highway 99, travel 40 miles east on State Highway 140 to the town of Mariposa. Then travel another 12 miles along Highway 140 to the Briceburg Visitor Center at the Wild & Scenic Merced River.
There are three developed BLM campgrounds along the Merced River between Briceburg and Bagby. The campgrounds are accessed by crossing the suspension bridge just past the Briceburg Visitor Center and heading down river along the Briceburg River Road (old Yosemite railroad grade). Trailers over 18 feet and large RV's are not recommended crossing the suspension bridge.
Fee Description:
$10.00 per site per night, 8 people per site maximum. Recreation Pass fee is $5.00/site/night.
McCabe Flat Campground
Remember your OUTDOOR ETHICS when enjoying your public lands. Please RECREATE RESPONSIBLY.
Overview
The first of three BLM campgrounds within the Merced River Recreation Management Area is McCabe Flat. The campground is located 2.3 miles west (downstream) from the Briceburg suspension bridge along the Wild & Scenic Merced River.
The Briceburg River Road runs along the historic Yosemite Valley Railroad grade that follows the Merced River. It is an unpaved, dirt & gravel rough road with many potholes, but can easily be navigated with ordinary passenger vehicles traveling within the 15 miles per hour speed limit. Turn-outs are located all along the road. Loop turnarounds are provided in each of the three campgrounds.
McCabe Flat Campground hosts one of the biggest sandy beaches in the area. There is a designated swimming area and no dogs are allowed on the beach. All other areas of the Merced River Recreation Area allow dogs on leash.
Facilities in McCabe Flat Campground (11 sites total):
8 Walk-in camp sites
3 drive-up camp sites
2 vault toilets
1 Port-o-let toilet (seasonal near site 10 and 11)
Trash collection cans
Recycling collection cans
Main parking lot
Overflow parking lot
Drive-thru turn-around
Designated swimming beach
Self-pay Iron Ranger fee system
There are picnic tables, fire grills, and food storage lockers at all camp sites.
All campsites are within 200 feet of the river
Permits, Fees, and Limitations:
Camp fee is $10.00 per site per night.  America the Beautiful Pass fee is $5.00/site/night.
Camping is allowed only in designated, numbered camp sites.
Maximum 8 people and two vehicles per site.
Camping is first come, first served. No reservations available.
A campsite is rented ONLY once it has been paid in full, pay-stub is properly completed and attached to campsite post, and site is occupied by campers (tent up).
Self-pay system. Iron Ranger located near Bulletin Board.
Pay camp fee within 30 minutes of occupying site.
No dispersed camping within the Merced River corridor.
No person shall leave any property unattended for more than 24 hours. (43 CFR 8351.2-1 (1))
Campfires are allowed ONLY in provided metal fire rings. NO campfires on beach. Seasonal Fire Restrictions apply.
No glass bottles allowed within 1/4 mile of the Merced River. 43 CFR 8351.2-1 (i)
Dogs must be on a leash at all times.
NO DOGS allowed at McCabe BEACH.
NO AMPLIFIED MUSIC or unreasonable noise any time.
QUIET TIME AFTER 10:00 pm (no speakers, generators etc.)
No discharge of firearms or fireworks 43 CFR 8351.2-1 (a)
No person shall enter a developed campground between 10:00 pm and 6:00 am, unless that person is a registered camper. 43 CFR 8351.2-1 (g)
All California Motor Vehicle Laws Apply. (Seat Belts, DUI, etc.). 43 CFR 8351.2-1 (e)
Any person who fails to comply with these written orders may be subject to a fine not to exceed $500 and/or imprisonment not to exceed six months. Federal Register/ Vol. 66 No. 130/ Friday, July 6, 2001/ Notices Pg 35663.
WARNING:
No lifeguard on duty. Swimming is dangerous any time of year, but especially during spring and early summer. The Merced River is un-damned and the flow changes dramatically from year to year and season to season. Please wear a life jacket. SWIMMING IS ONLY RECOMMENDED BELOW 700 CFS.
Potable water is available across the Briceburg Bridge as you head towards the campground facilities. Look for the faucet near the information kiosk. Bring your own water for camping purposes. Potable water is not available at the campground sites.
PLEASE NOTE:
Trailers over 18 feet and large RV's are not recommended crossing the suspension bridge. The old Yosemite railroad grade is accessible by vehicles up to the Railroad Flat Campground. Only equestrian, pedestrians, and bicycles are permitted beyond the Railroad Flat Campground. Commercial lodging is available in the town of Mariposa.
Helpful Links:
Accessibility Description (ABA/ADA):
90% of campsites are ADA accessible
Special Guidelines for Merced River Recreation Area Campgrounds During COVID-19
In order to comply with the Mariposa County Interim Guidelines for Campgrounds, the following procedures are put in place:
Be prepared by bringing your own personal hygiene supplies, including soap, toilet paper, and hand sanitizer.
Only one household per camp site (Maximum 8 persons).
Only registered campers in developed campgrounds. McCabe Beach is for registered campers only during COVID-19 restrictions. (First come first served, on-site registration/payment only—no advanced registration).
No group campsites. Site #13 will only allow 8 persons.
Stay home if you are sick.