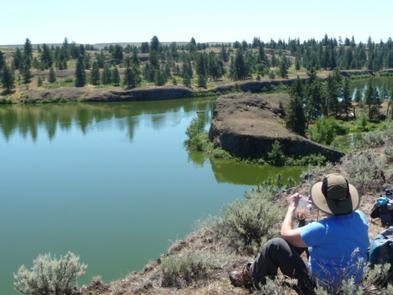 ADDRESS:
Border Field Office 1103 N. Fancher Road Spokane, WA 99212
Latitude/Longitude:
47.34588, -117.85768
Directions:
Fishtrap Recreation Area is just a 30-mile drive southwest of Spokane, Washington. From Interstate 90, take Exit 254, and then travel east for 1.75 miles to the public land access.
HISTORIC & CULTURAL SITE
Fishtrap Recreation Area
The Fishtrap Area offers 9,000 acres of beautiful landscapes and an old farmstead, with habitats ranging from forest to shrub-steppe, grassland, and wetlands. Fishtrap is home to two scenic fishing lakes and numerous species of birds and other wildlife.

The historic Folsom Farm Recreation Site demonstrates how the landscape was converted into small farms, ranches, and communities beginning in the late 1800's.

Enjoy the chance to explore, view and study nature, picnic, backpack, horseback ride, mountain bike, or hunt throughout the entire Fishtrap area. Fishing for stocked rainbow trout is popular at Fishtrap Lake, and during the winter season at Hog Canyon Lake.
Know Before You Go:
Fishtrap Recreation Area is open year-round has no developed campsites.
The South Loop Trailhead parking lot has substantial space for vehicle and RV parking/camping. Additional minimal space is available at the Folsom Farm, and Hog Lake Loop Trailhead parking lots. See the Fishtrap Area map. vehicle and RV parking/camping is limited to existing parking areas and camping pull-outs.
Dispersed (tent) camping is allowed. Please practice the seven Leave No Trace principles when recreating on Public Lands.
Check Washington Department of Fish and Wildlife (WDFW) fishing regulations for fishing seasons at Hog Canyon Lake and Fishtrap Lake. Both lakes have concrete boat launches maintained by Washington Department of Fish and Wildlife (a paid in advance parking permit from WDFW is required.)
Point of Interest:
You may want to check out the popular +8-mile non-motorized Fishtrap Loop Trail system, a partnership project between the BLM and area non-motorized trail user groups. Besides prolific wildflowers in springtime, year-round trail features include scenic vistas of Fishtrap Lake, and even a few Channeled Scablands geologic kolk craters or ponds to explore. As shown on the Fishtrap Area map, this trail system features a north loop and a south loop, each with its own trailhead parking lot. The loops provide options for various distance treks, horseback rides, or mountain bike rides. E-bikes are prohibited on all trails at Fishtrap.