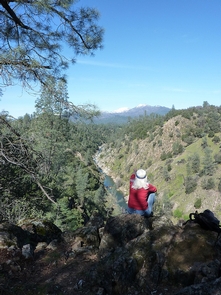 Address:
BLM - Redding Field Office 6640 Lockheed Drive Redding, CA 96002
Latitude/Longitude:
40.494442, -122.479777
Directions:
Located just a few miles southwest of Redding, CA. From Highway 273, head west on Clear Creek Road. There are numerous trailheads that allow access to the creek and non-motorized trails in the area. The Clear Creek Gorge Overlook is located 4 miles out Clear Creek Road on the left.
Clear Creek Greenway
The Clear Creek Greenway offers hiking, biking, horseback riding, wildlife viewing and swimming all within a short drive from Redding. Horsetown Clear Creek Preserve is managed cooperatively with a private non-profit group which offers guided hikes and events during the Spring and Fall. Stop at the Clear Creek Gorge Overlook and watch fall run Chinook Salmon spawning in the creek below. Salmon viewing is best between October 1 and December 1. Take a short hike around the rim trail to the east for great views into the canyon. Interpretive displays near the salmon viewing platform describe the mining history of the area, Native American culture, wildlife, native plants, and the salmon life cycle.