CLOSURE NOTICE
Effective immediately, the public lands along the Merced River are CLOSED to all forms of public access. This closure is for public and employee safety in relation to the presence of toxic algae cyanobacteria (Microcoleus) in the Merced River.  This closure will remain in effect until rescinded.
(Posted September 17, 2021)
The affected recreation areas include the Merced River Campground Access Road, McCabe Flat Campground, Willow Placer Campground, Railroad Flat Campground, North Fork Primitive Camp, Cable Rock Day Use Site, and Briceburg Day Use and Put-in, and are closed to all forms of public access.
Read more at: https://go.usa.gov/xMCx6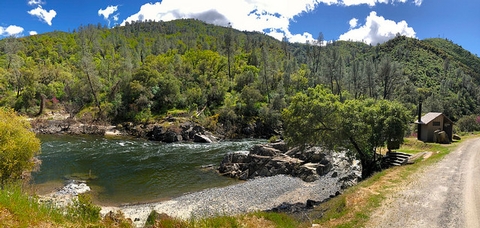 Address:
Bureau of Land Management Cable Rock Day Use Site Briceburg, CA 95345
Latitude/Longitude:
37.594287, -119.988
Directions:
From the city of Merced, located on U.S. Highway 99, travel 40 miles east on State Highway 140 to the town of Mariposa. Then travel another 15 miles along Highway 140 to the Briceburg Visitor Center at the Wild & Scenic Merced River. From the Briceburg Visitor Center take the Briceburg River Road (old Yosemite Valley Railroad Grade) for 1.4 miles to Cable Rock Day Use Site.
Cable Rock Day Use Site
Remember your OUTDOOR ETHICS when enjoying your public lands. Please RECREATE RESPONSIBLY.
Overview
Within the BLM, Merced River Recreation Management Area you may also enjoy Cable Rock Day Use Site. Located 1.4 miles downstream from the Briceburg Visitor Center along the Wild & Scenic Merced River. This day use area is a very popular swimming hole! Summer weekends can be crowded, so come early to set-up for the day. There is no shade on the beach and summer temperatures are well over 100 degrees so bring a shade device if you plan on hanging out very long.
Swimming is the most popular activity here. There is a jumping rock for adventurous swimmers. The beach may consist of sand or cobbles depending on how the un-damned Wild & Scenic Merced River has left the site on a particular year. Fishing is also popular here and can be good mid-week and during non-summer time frames. Gold panning is popular all along the Merced River including here at Cable Rock.
Facilities:
This site has a vault toilet, information kiosk, trash and recycling containers. Stone steps down to the beach. Parallel parking is available along the Briceburg River Road.
What you need to know:
Camping and campfires are not allowed anytime. Charcoal BBQ's are not allowed. It is best to bring your own propane BBQ or stove for cooking any time of year.
WARNING:
No lifeguard on duty. Drownings have originated from this site! Swimming is dangerous any time of year, but especially during spring and early summer. The Merced River is un-damned and the flow changes dramatically from year to year and season to season. Please wear a life jacket.  SWIMMING IS ONLY RECOMMENDED BELOW 700 CFS.
Helpful Links:
Accessibility Description (ABA/ADA):
Parking lot and vault toilet is ADA accessible. Access to beach is down steep stone steps. Almost no shade on site.