California Featured Partnership
Napa Mustang Days: A California Tradition
Napa Mustang Days (NMD) started out as a group of mustang owners at the Napa Valley Horsemen's Association who wanted to promote their horses, so they decided to have a meet and greet at the club.  Somehow news of this event made its way to BLM, who offered to have an adoption there.  
In 2007, the first Napa Mustang Days happened under the leadership of volunteers and adopters, Mike and Nancy Kerson, and volunteers did everything, including organizing the event, training demonstrations, and promoting the event.  It grew from there. The next event included professional horse trainers and vendors.  The Arena Show started with area people showing off their horses' versatility (driving, gymkhana, dressage, endurance, etc).  It has since expanded to include a parade of adopters, and various horse exhibitions such as gymkhana, vaulting, dressage, and drill teams.
The parade of adopters in 2015 included more than 50 horses and burros, an impressive sight for spectators. NMD has options for any adopter! The adoptions now include not only the untouched animals from the Litchfield Corrals, but also animals gentled by volunteers and horses trained by inmates at the Rio Cosumnes Correctional Center in Elk Grove.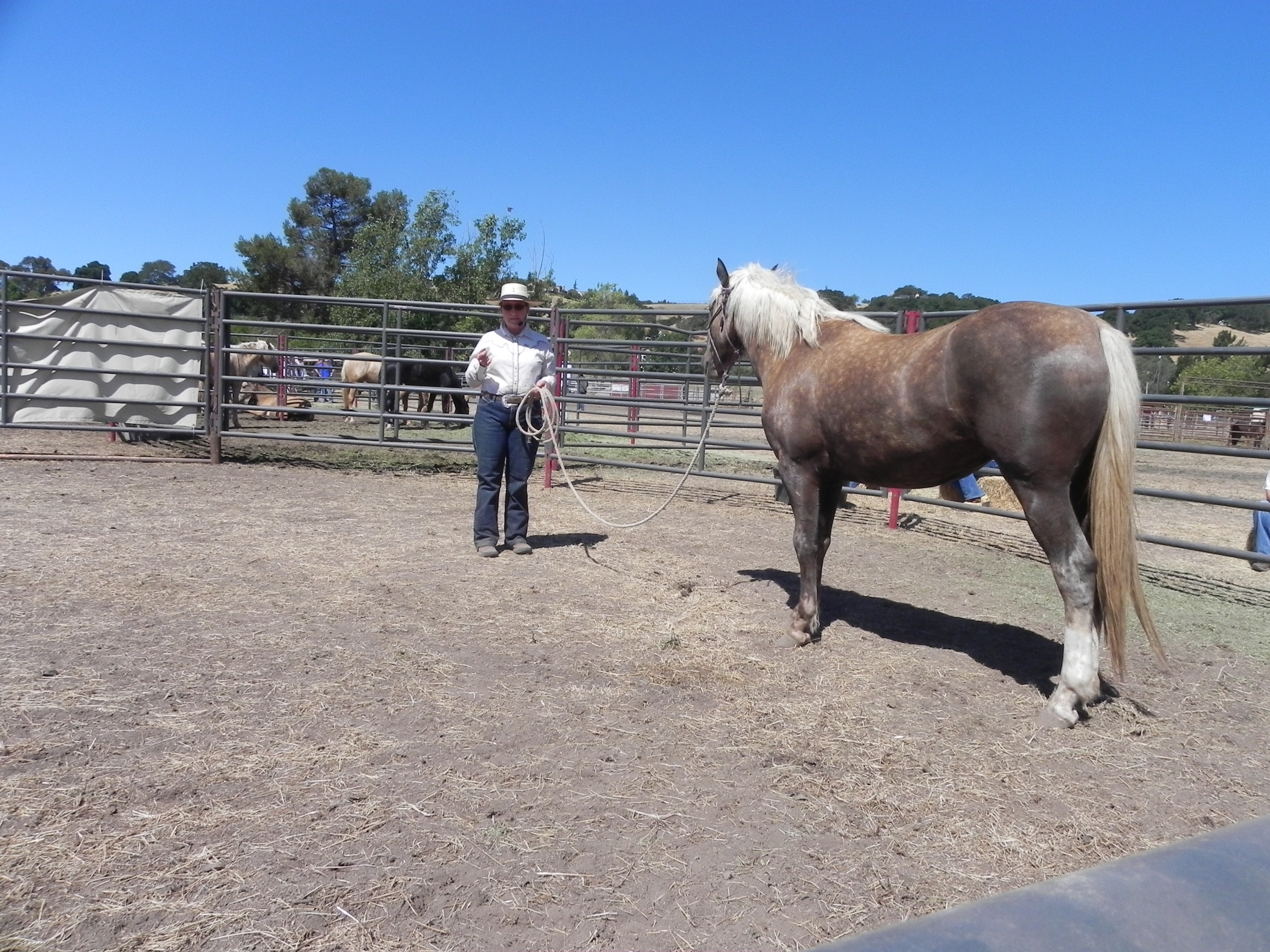 Trainers work with untouched horses in round pens prior to the adoption while explaining to the audience what they are doing.  The spectators get to see how the horse will gentle down and learn how to gentle an animal themselves.  In addition, NMD provides opportunities for previous adopters to bring their horses to the clinicians to help them with their animals' training in various demonstrations the trainers do all weekend.  The demo spots are coveted and often include a waitlist.  In 2015, NMD premiered the movie "Unbranded" in the Napa Valley drawing a nice crowd to the grounds.  
These days the purpose of the biennial Napa Mustang Days is much bigger than promoting adoptions.  The Kersons want Mustang Days to help foster good relations between the community and the BLM, and, as demographics are changing in the Napa Valley, to offer he public an opportunity to learn to know and enjoy horses. The entire event has grown from a one-day meet and greet to a two-day educational event drawing hundreds of people from the area, organized and staffed by BLM Wild Horse and Burro volunteers, and their families.