2019 Challis HMA Wild Horse Gather
Gather Complete 11/5/19-11/11/19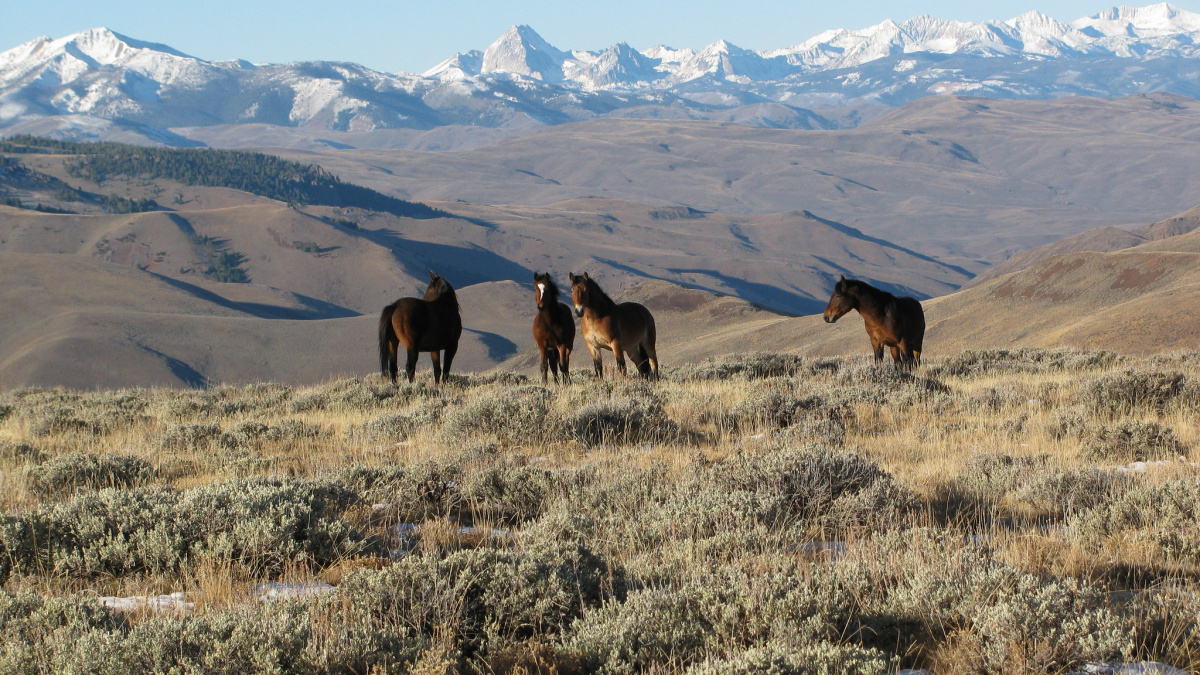 Background:
The Challis Herd Management Area (HMA) encompasses over 168,700 acres and has an Appropriate Management Level (AML) of 185 - 253 wild horses.
Purpose of Gather:
The BLM Challis Field Office removed wild horses within the Challis Herd Management Area (HMA) to reduce overpopulation. Prior to the start of the gather, the population was estimated to be around 429 animals within and directly outside of the Challis HMA. Learn more in our Frequently Asked Questions. 
Details of Gather:
The gather using the helicopter-assisted method was conducted on November 5-11, 2019. The BLM planned to gather approximately 365 wild horses and remove approximately 244 excess wild horses. The BLM gathered 295 wild horses from public lands during gather operations. Those mares that will be released back to the range were treated with fertility control. Approximately 185 wild horses will remain in the HMA following completion of the gather.
The BLM's priority is to conduct safe, efficient, and successful wild horse gather operations while ensuring humane care and treatment of all animals gathered. The BLM and its contractors used the best available science and handling practices for wild horses while meeting overall gather goals and objectives in accordance with the Comprehensive Animal Welfare Policy.
Public Observation: 
Adoption Information: 
All horses identified for removal were transported to the Bruneau Wild Horse Off-Range Corral facility in Bruneau, Idaho, where they were be checked by a veterinarian and readied for the BLM's Wild Horse and Burro Adoption and Sale Program. Wild horses that received fertility control vaccines will be held temporarily in the Challis Off-Range Corral Facility in Challis before being returned to the HMA.
Daily Gather Reports

November 5, 2019
Summary: 
Temps 24-45 degrees
Animals Gathered:
66 (21 stallions, 2 geldings, 32 mares, 11 foals)
Animals Shipped:
26 (8 stallions, 2 geldings, 16 mares, 0 foals)
Henneke Body Score of Animals Gathered Today:
5's
Total Deaths Today:
0
-------------------------
November 6, 2019
Summary:
Temps 24-45 degrees
Animals Gathered:
78 (31 stallions, 3 geldings, 33 mares, 11 foals)
Animals Shipped:
72 (28 stallions, 3 geldings, 30 mares, 11 foals)
Henneke Body Score of Animals Gathered Today:
5's
Total Deaths Today:
0
-----------------------
November 7, 2019
Summary:
Temps 20-45 degrees
Animals Gathered:
52 (18 stallions, 2 geldings, 25 mares, 8 foals)
Animals Shipped:
60 (19 stallions, 2 geldings, 28 mares, 11 foals)
Henneke Body Score of Animals Gathered Today:
4-5
Total Deaths Today:
0
-------------------------
November 8, 2019
Summary:
Temps 20-45 degrees
Animals Gathered:
39 (20 stallions, 4 geldings, 8 mares, 7 foals)
Animals Shipped:
54 (22 stallions, 4 geldings, 20 mares, 8 foals)
Henneke Body Score of Animals Gathered Today:
4-5
Total Deaths Today:
0
---------------------------
November 9, 2019
Summary:
Temps 20-50 degrees
Animals Gathered:
32 (12 stallions, 1 gelding, 16 mares, 3 foals)
Animals Shipped:
42 (17 stallions, 1 gelding, 16 mares, 8 foals)
Henneke Body Score of Animals Gathered Today:
4-5
Total Deaths Today:
0
---------------------------
November 10, 2019
Summary:
Temps 30-45 degrees and windy
Animals Gathered:
16 (7 stallions, 0 geldings, 7 mares, 2 foals)
Animals Shipped:
4 (1 stallion, 0 geldings, 3 mares, 0 foals)
Henneke Body Score of Animals Gathered Today:
4-5
Total Deaths Today:
Pre-existing: 2
Two mares with pre-existing conditions were euthanized by veterinarian
---------------------------
November 11, 2019
Summary:
Temps 25-45 degrees
Animals Gathered:
11 (6 stallions, 2 geldings, 2 mares, 1 foal)
Animals Shipped:
37 (20 stallions, 2 geldings, 10 mares, 5 foals)
Henneke Body Score of Animals Gathered Today:
4-5
Total Deaths Today:
0