Writing and photography workshops June 9 and July 21 at Headwaters Forest Reserve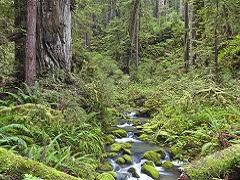 ARCATA, Calif. – Outdoor enthusiasts have the opportunity use the beauty of the Headwaters Forest Reserve to refine their photography and writing skills, in two free workshops to be offered this spring and summer by the Bureau of Land Management and Friends of Headwaters.
Bob Wick, an acclaimed landscape photographer with the BLM, will lead the photography workshop Sunday, June 9, sharing techniques that use lighting, angles, shutter speed and aperture to capture dramatic landscapes.  Participants will meet at the Elk River Trailhead at 10 a.m. for the three-hour workshop that will include a two-mile walk over level ground. Participants must bring their own photo gear.
North Coast writer Jerry Martien will lead a nature-writing workshop Sunday, July 21, at the Headwaters Education Center, about a half-mile from the Elk River Trailhead parking area. In the two-hour workshop Martien will talk about "listening" to nature and "translating" what is heard into poetry and prose. Participants should meet at the Elk River Trailhead at 1 p.m.
Both workshop leaders are accomplished in their fields.
Wick's photographs have been featured in BLM and U. S. Department of the Interior publications and social media and in news media outlets including The Washington Post, Outside Magazine and the CBS Evening News. Three of his photos are featured in 2019 U.S. Postal Service forever stamps commemorating wild and scenic rivers.
Martien has been writing and teaching on the California North Coast for more than 40 years. He has written nonfiction books and published two volumes of poetry.
The workshops are part of an event series celebrating the 20th anniversary of establishment of the Headwaters Forest Reserve. More information is available by telephoning the BLM Arcata Field Office, 707-825-2300.
---
The BLM manages more than 245 million acres of public land located primarily in 12 western states, including Alaska, on behalf of the American people. The BLM also administers 700 million acres of sub-surface mineral estate throughout the nation. Our mission is to sustain the health, diversity, and productivity of America's public lands for the use and enjoyment of present and future generations.
Organization
Bureau of Land Management
Office
Arcata Field Office
Contacts
Related Content