Volunteers welcome for National Public Lands Day events in Central California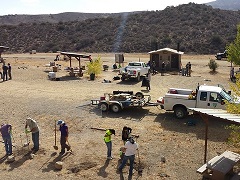 EL DORADO HILLS, Calif. – The Bureau of Land Management will host several volunteer events throughout Central California in honor of the 25th annual National Public Lands Day, "Connecting to Nature through Service."
Volunteers are welcomed at the following September 28 events:
Bodie Hills, 8:30 a.m. to 2:30 p.m. Rebuild fences to protect sensitive resources at Bodie Hills. Volunteers meet at Aurora Ballfields on Aurora Canyon Road in Bridgeport to carpool to the project site. Please bring water and dress in long pants, long sleeves and close-toed shoes. Gloves and tools will be provided. Visit http://bodiehills.org/event/bodie-hills-national-public-lands-day-event-september-28th-2019/ for more information, or telephone (760) 872-5035.
 
Carrizo Plain National Monument, 9:30 a.m. to 2 p.m. Saucito Ranch cleanup project at the monument. Volunteers meet at the Historic Saucito Ranch to conduct trail maintenance, tree trimming, invasive weed removal and general clean up. Participants should arrive at Carrizo Plain National Monument and continue on Soda Lake Road until arriving at the sign for Goodwin Education Center, turn at sign, and then continue for 1/2 mile to the education center. Continue on the road, pass the gate, and then arrive at Saucito Ranch.  For more information, call (661) 391-6000.
 
Cowboy Camp, 8 a.m. to 1 p.m. Trail and campground beautification project in the Cache Creek Recreation Area. Volunteers will participate in tree planting, campground facility improvements, invasive weed removal, wildlife habitat improvement, and trail maintenance. To get to the Cowboy Camp Loop Trail from Interstate 5 at Williams, take State Highway 20 west for about 19 miles to its junction with State Highway 16. Travel south on Highway 16 for one mile. Parking lot is on the right. From Clearlake Oaks, go east on State Highway 20 to Highway 16 intersection. For more information, call (707) 468-4000.
 
Keysville Special Recreation Management Area, 9 a.m. to 2 p.m. Volunteers meet at Walker Cabin in the Keysville Special Recreation Management Area, on state Route 155 near Lake Isabella, to assist with trail maintenance and installation of kiosk with equestrian information. For more information, call (661) 391-6000.
Each year, hundreds of thousands of volunteers come together on the fourth Saturday in September to assist with various projects designed to restore and enhance public parks, forests, waterways and more. From trail maintenance to tree planting—volunteers of all ages and abilities roll up their sleeves and work side-by-side to care for public lands. The day also features a variety of hikes, bike rides, community festivals, paddling excursions and other fun outdoor activities—all set on the backdrop of the country's public lands and waterways. For more information about volunteer events nation-wide, please visit: https://www.neefusa.org/npld.
---
The BLM manages more than 245 million acres of public land located primarily in 12 western states, including Alaska, on behalf of the American people. The BLM also administers 700 million acres of sub-surface mineral estate throughout the nation. Our mission is to sustain the health, diversity, and productivity of America's public lands for the use and enjoyment of present and future generations.
Organization
Bureau of Land Management
Office
Central California District Office
Contacts
Related Content