Saddle-trained wild horses available for adoption at Rio Cosumnes Correctional Center
BLM Office:
Central California District Office
Region:
California
Central California DO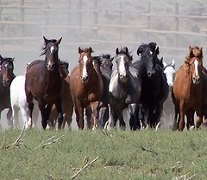 Wild horses will be available for public adoption and purchase, Saturday, July 27, from 9 a.m. to noon, at the Rio Cosumnes Correctional Center, 12500 Bruceville Rd. in Elk Grove.  Photos of the nine available horses are available online at www.friendsofr3c.com.
All have initial saddle training by inmates participating in the Sacramento County Sheriff's Department horse training program.  The starting bid will be $300.
"This is a great opportunity to take home a mustang that has had initial training," said Amy Dumas, manager of the Bureau of Land Management's wild horse and burro program for California.  "The inmates have been training these horses under the guidance of Joe Misner, a highly experienced horse trainer who oversees the RC3 Horse Training Ranch."
The Bureau of Land Management and Sacramento County Sheriff's Dept. created the horse training program in 2014 to improve the adoption rate for wild horses removed from public rangelands and to provide valuable social and vocational skills for inmates.  
Adopters must be at least 18 years old and have no convictions for inhumane treatment of animals.  Information about required facilities is available from the BLM's wild horse and burro program website at   
https://www.blm.gov/sites/blm.gov/files/wildhorse_adoption_requirements.pdf.
---
The BLM manages more than 245 million acres of public land located primarily in 12 western states, including Alaska, on behalf of the American people. The BLM also administers 700 million acres of sub-surface mineral estate throughout the nation. Our mission is to sustain the health, diversity, and productivity of America's public lands for the use and enjoyment of present and future generations.