Public invited to free, guided birding walk at Headwaters Forest Reserve
BLM Office:
Arcata Field Office
Region:
California
Northern California DO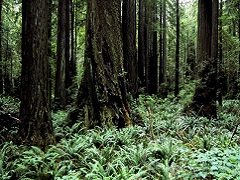 ARCATA, Calif. – The diversity of bird life in the Headwaters Forest Reserve will be on display in a free, guided birding walk, Friday, March 1, at the Headwaters Forest Reserve.
Participants will meet at 10 a.m. at the Bureau of Land Management Elk River Trailhead near Eureka, and then spend three hours spotting birds along a two-mile walk.  Wildlife biologist Russ Namitz will lead the outing, helping participants to identify birds by sight, their sounds and other fine points.  He will discuss bird habitat, ecology and migration.
"We are happy to host this outing to help connect people with the natural wonders of our public lands," said Molly Brown, manager of the BLM Arcata Field Office.
The BLM and California Department of Fish and Wildlife jointly manage the Headwaters Forest Reserve, established in 1999, to conserve habitat for threatened fish and wildlife species.  These include Coho salmon, northern spotted owls and a seabird, the marbled murrelet.
To get to the Elk River Trailhead, take the Elk River Road exit from U.S. Route 101 just south of Eureka, then turn right on Elk River Road and follow signs to the trailhead.
---
The BLM manages more than 245 million acres of public land located primarily in 12 western states, including Alaska, on behalf of the American people. The BLM also administers 700 million acres of sub-surface mineral estate throughout the nation. Our mission is to sustain the health, diversity, and productivity of America's public lands for the use and enjoyment of present and future generations.