Long-Term Camping Opportunities Available in the Eastern Sierra
BLM Office:
Central California District Office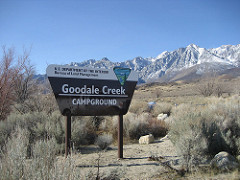 BISHOP, Calif. - The Bureau of Land Management (BLM) has approved a long-term camping permit program for developed campgrounds in the Eastern Sierra. Under the program, visitors may purchase recreation use permits, which allow camping beyond the established 14 day stay limit for campgrounds managed by the Bishop Field Office. Long-term permits are now available for camping within the Tuttle Creek, Goodale Creek, Horton Creek, and Pleasant Valley Pit campgrounds in Inyo County, and the Crowley Lake Campground in Mono County.
According to BLM outdoor recreation planner Sara Manley, "Area visitors have several options for camping in these campgrounds. Daily permits continue to be available to short-term visitors. Those interested in long-term camping have the option of purchasing either a 30-day or 90-day permit."
Under the approved permit program visitors can camp for up to 180 days per year within BLM campgrounds in the Eastern Sierra. Long-term permit holders may camp in any campsite designated as available for long-term camping in these campgrounds. A long-term permit also allows visitors to camp for up to 30 consecutive days in any of these campgrounds.
"We are pleased to announce these long-term camping opportunities," said Steve Nelson, BLM field manager in Bishop. "Recreational based tourism is a mainstay of the Eastern Sierra economy. This program expands permitted outdoor recreation opportunities on public lands in the region, particularly for visitors who prefer camping in a developed recreation site."
Permits may be purchased Monday to Thursday, between 8 a.m. and 4:30 p.m., at the Bishop Field Office, 351 Pacu Lane, Bishop. The fee for a 30-day permit is $120. The fee for a 90-day permit is $320. Interagency Senior Pass and Interagency Access Pass holders will receive a discount on 30-day permits. For further information regarding camping opportunities on public lands in the Eastern Sierra, please contact the Bishop Field Office at (760) 872-5000.
---
The BLM manages more than 245 million acres of public land located primarily in 12 western states, including Alaska, on behalf of the American people. The BLM also administers 700 million acres of sub-surface mineral estate throughout the nation. Our mission is to sustain the health, diversity, and productivity of America's public lands for the use and enjoyment of present and future generations.