The Bureau of Land Management reopens San Joaquin River Gorge recreation area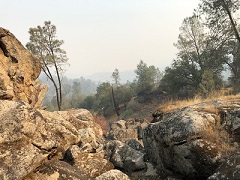 BAKERSFIELD, Calif. – The Bureau of Land Management Bakersfield Field Office will reopen the San Joaquin River Gorge Special Recreation Management Area in Fresno and Madera counties due to easing of wildland fire risk from the Creek Fire. The area will be open to the public the morning of Sunday, Oct. 25, for hunting, hiking, biking, horseback riding and camping.
"Sportsmen and women have for decades supported important initiatives at the San Joaquin River Gorge, contributing to habitat improvements, repairing springs and guzzlers and volunteering their expertise for our education programs," said Bakersfield Field Office Manager Gabriel Garcia. "BLM is very pleased to reopen the site to provide additional opportunities for recreation on public lands in California." 
Outdoor recreationists are reminded that all public lands managed by the BLM Bakersfield Field Office are under fire restrictions which prohibit all use of open flame, including campfires, barbecues or stoves and lanterns, including within established campgrounds. An interactive map and listing of fire restrictions throughout BLM California is available at https://go.usa.gov/xmUEG. These restrictions do not prohibit hunting by individuals with a valid State of California hunting license and actively engaged in the legal take or pursuit of game in accordance with current California hunting regulations. Hunting on BLM public lands is managed by the California Department of Fish and Wildlife. Please visit https://wildlife.ca.gov/hunting for more information.
The Creek Fire has consumed approximately 357,000 acres and continues to burn in the Ansel Adams Wilderness, with 61 percent containment. The fire is being managed by a Type 1 Incident Command Team for the Sierra National Forest. The latest information, including is available at https://inciweb.nwcg.gov/incident/7147/.
For more information on the Creek Fire, call 844-668-3473. For specific questions on the San Joaquin River Gorge Special Recreation Management Area closure, please call 661-391-6000 during normal business hours.
---
The BLM manages more than 245 million acres of public land located primarily in the 11 Western states and Alaska. The BLM also administers 700 million acres of sub-surface mineral estate throughout the nation. In fiscal year 2018, the diverse activities authorized on BLM-managed lands generated $105 billion in economic output across the country. This economic activity supported 471,000 jobs and contributed substantial revenue to the U.S. Treasury and state governments, mostly through royalties on minerals.
Organization
Bureau of Land Management
Office
Bakersfield Field Office
Contacts
Related Content