The Bureau of Land Management reopens Ft. Ord National Monument to the public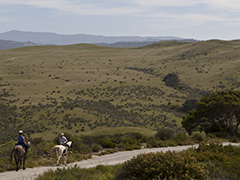 Marina, Calif. – The Bureau of Land Management Central Coast Field Office, in consultation with CalFire, has reopened the Ft. Ord National Monument in Monterey County to the public. The temporary emergency closure order has been rescinded immediately due to lifting of adjacent evacuations from decreased wildland fire danger.
The nearby River Fire is being managed by the CalFire San Benito-Monterey Unit. While evacuations have been lifted for the north zones, near the Ft. Ord National Monument, evacuation orders and warnings remain in effect elsewhere. For the latest information visit https://www.fire.ca.gov/incidents/2020/8/16/river-fire/. The evacuation zone map is available at https://www.co.monterey.ca.us/government/departments-a-h/administrative-office/office-of-emergency-services/response/2020-fires.
The Fort Ord National Monument is a coastal gem encompassing more than 7,000 acres with a rich history surrounded by a diverse habitat. The monument offers more than 85 miles of popular recreation trails to hike, bike or horseback ride through rolling hills, pockets of chaparral and oak woodlands. Visit us at https://www.blm.gov/visit/fort-ord-national-monument.
Please remember, public lands managed by the BLM Central Coast Field Office are under fire restrictions, which include a temporary limitation on target shooting: https://www.blm.gov/press-release/blm-central-coast-field-office-issues-seasonal-fire-restrictions. An interactive map and listing of fire restrictions throughout BLM California is available at https://go.usa.gov/xmUEG.
The BLM is committed to keeping public landscapes healthy and productive. For information on the River Fire, please call the public information/media line at 831-647-6257. To learn how you can prepare for wildland fire, visit www.readyforwildfire.org.
---
The BLM manages more than 245 million acres of public land located primarily in the 11 Western states and Alaska. The BLM also administers 700 million acres of sub-surface mineral estate throughout the nation. In fiscal year 2018, the diverse activities authorized on BLM-managed lands generated $105 billion in economic output across the country. This economic activity supported 471,000 jobs and contributed substantial revenue to the U.S. Treasury and state governments, mostly through royalties on minerals.
Organization
Bureau of Land Management
Office
Central Coast Field Office
Contacts
Related Content