BLM, USFS and partners celebrate Pacific Crest Trail 50th Anniversary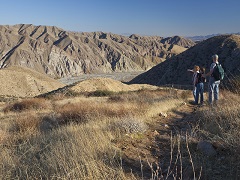 LAKE ISABELLA, Calif. – The Bureau of Land Management Bakersfield Field Office, Sequoia National Forest, Giant Sequoia National Monument and High Sierra Volunteer Trail Crew invite the public to a family friendly work weekend on the Pacific Crest Trail from Dec. 13-16, in honor of the 50th anniversary of the PCT and the National Trails System Act. 
This event is open to everyone. Volunteer opportunities will be available at base camp or on the trail. Crews will hike into the work areas each morning and arrive back at camp around 4:30 p.m. Volunteers will be maintaining up to seven miles of a heavily used section of the PCT to improve public access. All tools and safety equipment will be provided for trail reconstruction, which will include hand work to cut overgrown vegetation, build stairs, construct water bars to avoid erosion, cut up downed trees, rebuild the trail bed and eliminate reroutes. Come for just a day or bring gear and camp for the entire weekend and enjoy being surrounded by nature with sweeping views of the rugged southern Sierras. Partnerships and inclusion are vital to managing sustainable, working public lands. -
Base camp will be set up at the Walker Pass Campground  along state Route 178, approximately nine miles west of the junction with state Route 14. The campground is at roughly 5,000 feet elevation and offers free tent or car camping with developed sites, picnic tables, shade shelters and a vault toilet. Potable water will be provided. The High Sierra Volunteer Trail Crew will provide meals free of charge to participants, beginning Thursday at dinner through Sunday lunch. 
Participants should wear long pants, long-sleeved shirts, work boots and be prepared for cold weather.  In addition, volunteers should bring a cup, folding chair, day pack for carrying food and water on the trail. 
To participate, sign up as a volunteer at trailcrew.org. For more information, please contact BLM Outdoor Recreation Planner Brie Chartier at 661-391-6000.  Please contact us for reasonable accommodations to participate.
The Pacific Crest Trail was designated by President Lyndon B. Johnson in 1968, though the long-distance hiking and equestrian trail was not officially completed until 1993. It traverses the highest portion of the Sierra Nevada and Cascade Mountains, stretching 2,653 miles from the U.S.-Mexico border to the U.S.-Canada border passing through 25 national forests and seven national parks in California, Oregon and Washington.
USDA is an equal opportunity provider, employer and lender.
---
The BLM manages more than 245 million acres of public land located primarily in 12 western states, including Alaska, on behalf of the American people. The BLM also administers 700 million acres of sub-surface mineral estate throughout the nation. Our mission is to sustain the health, diversity, and productivity of America's public lands for the use and enjoyment of present and future generations.
Organization
Bureau of Land Management, California; U.S. Forest Service
Office
Bakersfield Field Office
Contacts
Name:
Alicia Embrey, USFS
Related Content