BLM seeks public comment on McCain Valley campground improvements
BLM Office:
El Centro Field Office
Region:
California
California Desert DO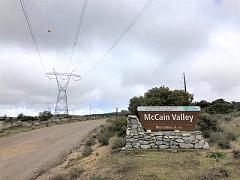 EL CENTRO, Calif. -  The Bureau of Land Management El Centro Field Office is seeking public input on an Environmental Assessment (EA) for proposed upgrades and modifications at Lark Canyon Campground, Lark Canyon Day Use Area, and Cottonwood Campground located within McCain Valley in Eastern San Diego County, near the town of Boulevard. The 30-day public comment period closes on Wednesday, Oct., 14. 
"The proposed changes include upgrading an inoperable water system and modifying the campgrounds," said El Centro Field Manager Ryan Chatterton.  "We look forward to public input that will help provide quality recreation experiences while conserving and protecting the historical, cultural, and natural qualities of the land."
The EA evaluates potential impacts to the environment due to the proposed upgrades and modifications, as well as the potential impacts to the natural or cultural resources based on current and projected land use.  For more information on the project and to review the EA, visit: https://go.usa.gov/xfaVg. 
Public comments may be submitted through the website; by email to: aswilliams@blm.gov; by fax to Attn: Alexia Williams at 760-337-4490; or by mail to Bureau of Land Management, Attn: Alexia Williams, 1661 S 4th St., El Centro, CA 92243. Public comments should be specific; provide new information, alternatives, or analysis; identify a different way to meet the need; point out a specific flaw; suggest alternate methodologies and or the reason(s) why they should be used; make factual corrections, or identify a different source of credible research which, if used in the analysis, could result in different effects.
Before including an address, phone number, email address or other personally identifiable information in a comment, members of the public should be aware that the entire comment, including personally identifiable information, could be made publicly available at any time.  While the public may ask the BLM to withhold personally identifiable information from public review, the BLM cannot guarantee it will be able to do so.
---
The BLM manages more than 245 million acres of public land located primarily in 12 western states, including Alaska, on behalf of the American people. The BLM also administers 700 million acres of sub-surface mineral estate throughout the nation. Our mission is to sustain the health, diversity, and productivity of America's public lands for the use and enjoyment of present and future generations.