BLM seeking public comment on upgrades at McCain Valley campgrounds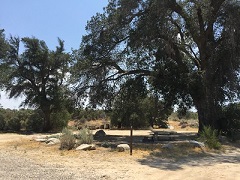 EL CENTRO, Calif. – The Bureau of Land Management El Centro Field Office is seeking public comment on proposed upgrades and modifications at McCain Valley campgrounds, within the McCain Valley Recreation Management Zone in eastern San Diego County, near the town of Boulevard. The 30-day public comment period will end on June 5.
The BLM is looking at modifying sustainable camping opportunities at Lark Canyon Campgrounds, Lark Canyon Day Use Area, and Cottonwood Campgrounds, while improving the protection of natural, cultural, and recreational resources in McCain Valley.
Improvements may include upgrading water systems and developed campsites to accommodate the increased interest in overnight recreational activities.
Public comments will help the BLM determine relevant issues that will influence the scope of the environmental analysis.  All comments will be considered during preparation of the environmental assessment. 
Written comments may be submitted via email to: aswilliams@blm.gov, or by mail to: Bureau of Land Management, Attn: Alexia Williams, 1661 S. 4th St., El Centro, CA 92243. More details can be found at https://bit.ly/35lDrNJ.
Before including addresses, phone numbers, email addresses or other personal identifying information in a comment, commenters should be aware that the entire comment, including personal identifying information, could be made publicly available at any time. While the public may ask the BLM to withhold personal identifying information from public review, the BLM cannot guarantee it will be able to do so.
For more information, contact Alexia Williams at 760-337-4443, or by email at: aswilliams@blm.gov.
---
The BLM manages more than 245 million acres of public land located primarily in 12 western states, including Alaska, on behalf of the American people. The BLM also administers 700 million acres of sub-surface mineral estate throughout the nation. Our mission is to sustain the health, diversity, and productivity of America's public lands for the use and enjoyment of present and future generations.
Organization
Bureau of Land Management
Office
El Centro Field Office
Contacts
Related Content