BLM reopens Chappie-Shasta OHV Recreation Area
BLM Office:
Redding Field Office
Region:
California
Northern California DO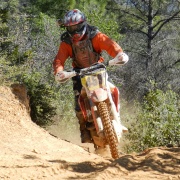 REDDING, Calif. – The Chappie-Shasta Off Highway Vehicle Recreation Area near Redding is now open to the public. The Bureau of Land Management had closed the area, because of impacts from the Carr Fire. The Shasta Campground at the OHV area will also be open for overnight camping.
Officials at the Bureau of Land Management said recent light rains have compacted trails and settled deep pockets of powder-like soil that had posed safety concerns. In addition, crews have completed most road and trail maintenance and removed hundreds of burned trees from roads and trails.
"Much of the OHV area was burned.  We are asking riders to stay on the established road and trail system to avoid creating new routes that could lead to increased erosion," said BLM Redding Field Manager Jennifer Mata. Riders should exercise caution as wind and rain may cause additional burned trees and brush to fall onto the roads and trails, temporarily blocking them. There could also be slides of soil and rock across trails.
The OHV area north of Redding offers more than 200 miles of roads and trails for motorcycles, all-terrain vehicles and four-wheel-drive vehicles.  Riders can access the area from the Chappie-Shasta Staging Area near Shasta Dam and the Copley Mountain Staging Area off Iron Mountain Road northwest of Redding. 
Directions and maps are available online at https://www.blm.gov/visit/chappie-shasta.
More information is available by contacting the BLM Redding Field Office at 530-224-2100.
---
The BLM manages more than 245 million acres of public land located primarily in 12 western states, including Alaska, on behalf of the American people. The BLM also administers 700 million acres of sub-surface mineral estate throughout the nation. Our mission is to sustain the health, diversity, and productivity of America's public lands for the use and enjoyment of present and future generations.