BLM to conduct pile burning at Keysville and the San Joaquin River Gorge
BLM Office:
Bakersfield Field Office
Region:
California
Central California DO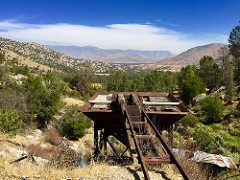 BAKERSFIELD, Calif. –  Bureau of Land Management wildland firefighters will be burning piles of hazardous brush and tree limbs on roughly 10 acres at two recreation sites managed by the Bakersfield Field Office in the Kern River Valley and the San Joaquin River Gorge in the coming months. Burn operations will depend on weather and air quality conditions.
Approximately 50 piles were formed when BLM wildland fire crews cleared defensible space and created fuel breaks to protect the Keyes Mine and Walker Cabin historical sites in the Keysville Special Recreation Management Area, near Lake Isabella. It is expected to take only one day to burn the piles, but smoke may be visible for a couple days throughout the Kern River Valley, particularly near Lake Isabella, Wofford Heights and Kernville. 
Another roughly 50 piles were formed when BLM crews thinned hazardous trees and fuels along the Smalley Road, which leads to the visitor center in Auberry within the San Joaquin River Gorge Recreation Area in Fresno and Madera counties. It is expected to take only one day to burn the piles, but smoke may be visible for a couple days in Auberry, Prather and North Fork. Hikers and walkers may wish to choose an alternate route than the Nature Trail Loop, during burn operations.
The BLM is committed to keeping public landscapes healthy and productive by implementing a multi-year, phased approach to reduce the risk of wildland fire and promote forest health. Treatments including pile burning, logging, chipping and mastication of hazard trees, creating defensible space, and removal of overgrown brush and dangerous fuel loads. To learn more about the BLM Fire and Aviation Program, visit https://www.blm.gov/programs/fire-and-aviation.
Updates on burn operations will be provided on BLM California's social media sites. To plan a trip to a BLM-managed recreation site, visit https://www.blm.gov/visit. For specific questions, please call Travis Bowling at the Bakersfield Field Office at 661-391-6000.
---
The BLM manages more than 245 million acres of public land located primarily in 12 western states, including Alaska, on behalf of the American people. The BLM also administers 700 million acres of sub-surface mineral estate throughout the nation. Our mission is to sustain the health, diversity, and productivity of America's public lands for the use and enjoyment of present and future generations.