BLM, Piedras Blancas Light Station recommence public tours Nov. 14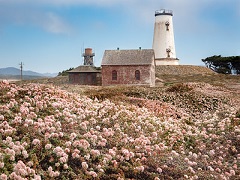 SAN LUIS OBISPO, Calif. —Starting Nov. 14, the Bakersfield Field Office will re-open the Piedras Blancas Light Station to public tours. Tours will follow agency and local county orders to implement COVID-19 protective measures. Tours will be by reservation only and self-guided, providing the opportunity to independently explore the light station along the scenic trail.  All buildings remain closed; however, restrooms are available.  Reservations can be made at www.piedrasblancas.org.
"Our staff and dedicated volunteers are excited to welcome back the public to the light station," said Ryan Cooper, Piedras Blancas Light Station Manager. "Our tour has been redesigned to provide the greatest safety to our volunteers, visitors and staff. We encourage visitors to wear a mask and observe social distancing with those outside of your immediate household."
Volunteers will provide visitors a brief orientation and a brochure that includes a trail map. The trail is a short half-mile mile walk along coastal bluffs, offering sweeping ocean views of offshore rocks inhabited by peregrine falcons and sea lions. Elephant seals can be seen on the beach as they prepare for the winter birthing and breeding season. Volunteers and staff will be available to answer questions and provide information about the light station and local wildlife. 
All visitors are encouraged to bring binoculars, wear comfortable shoes and layer clothing as the weather can change quickly at the light station. The following protective measures are recommended to reduce the spread of COVID-19:
Practice social distancing by maintaining the length of one harbor seal (6 feet) between you and people not in your household while visiting the light station.
Please wear a mask in addition to observing physical distancing (except for those who are under age 2 or have trouble breathing).
Wash your hands often and, while outdoors, use hand sanitizers. 
Cover your mouth and nose when you cough or sneeze.
Avoid touching your eyes, nose, or mouth.
Most importantly, stay at home if you do not feel well.
This year, we invite everyone to reimagine your public lands as we celebrate 75 years of the BLM's stewardship and service to the American people. The BLM manages approximately 245 million acres of public land located primarily in 12 Western states, including Alaska. The BLM also administers 700 million acres of sub-surface mineral estate throughout the nation. The agency's mission is to sustain the health, diversity, and productivity of America's public lands for the use and enjoyment of present and future generations. 
Organization
Bureau of Land Management
Office
Bakersfield Field Office
Contacts
Related Content