BLM opens some public lands affected by the Slink Fire in Mono County
BLM Office:
Bishop Field Office
Region:
California
Central California DO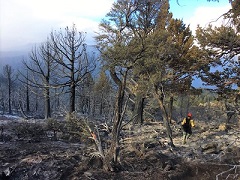 BISHOP, Calif. – The Bureau of Land Management Bishop Field Office has reopened a portion of public lands in Mono County that were closed due to the effects of the Slink Fire.
The updated Emergency Closure Order reduces the area closed to public entry to the fire perimeter located north of Mill Creek, west of U.S. Highway 395, south of State Highway 89, and east of the Alpine County line in Little Antelope Valley and the southern portion of Slinkard Valley.
The closure applies to all forms of public access and is necessary to protect public land visitors from risks associated with remaining hotspots and other hazards within the area recently burned by the Slink Fire. The closure is also needed to protect wildland firefighters from activities that could interfere with ongoing fire suppression efforts and post-fire suppression repair, emergency stabilization, and burned area rehabilitation work that is needed to facilitate the healing process for public lands and resources that have been impacted by the fire.
The Slink Fire is being managed by the Humboldt-Toiyabe National Forest in coordination with the BLM Bishop Field Office. The fire has burned more than 26,500 acres and is 90 percent contained. For the latest information visit https://inciweb.nwcg.gov/incident/7105/or follow #SlinkFire on Facebook at @HumboldtToiyabeNF or Twitter at @HumboldtToiyabe. To sign up for daily updates email 2020.slink@firenet.gov.
The BLM is committed to keeping public landscapes healthy and productive. For information on the Slink Fire, please call the Fire Information line at 775-430-5103. For questions on the closure, please call the Bishop Field Office at 760-872-5000.
---
The BLM manages more than 245 million acres of public land located primarily in 12 western states, including Alaska, on behalf of the American people. The BLM also administers 700 million acres of sub-surface mineral estate throughout the nation. Our mission is to sustain the health, diversity, and productivity of America's public lands for the use and enjoyment of present and future generations.