BLM improving Headwaters parking area; access could be temporarily restricted
BLM Office:
Northern California District Office
Region:
California
Northern California DO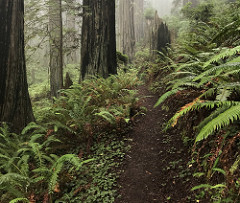 ARCATA, Calif. – A public access improvement project that will add parking spaces and improve traffic flow gets underway Tuesday, Sept. 11, at the Elk River Trailhead in the Headwaters Forest Reserve.  There may be access limitations or short-term closures as the project progresses through mid-October.
"We want to minimize interruptions to access, but there will be times when we have to limit access for public safety," said BLM Arcata Field Manager Molly Brown.  "This project will result in a trailhead that is much more convenient for visitors."
The project will enlarge the parking lot to accommodate 25 vehicles and develop space for vans and school buses, Brown said.  It will also improve the maneuvering space for drivers.
The Elk River Trailhead is the primary public access point for the 7,400-acre forest reserve.  It provides access to the Elk River Trail, a five-and-a-half mile route into the Douglas-fir and redwood forest.  It includes a paved section designed for accessibility and signs about the natural history of the reserve.
Managed jointly by the BLM and the California Department of Fish and Wildlife, the reserve provides habitat for threatened species including northern spotted owls, Chinook and Coho salmon and the marbled murrelet, a seabird that nests in the redwood canopy. 
Information about the reserve and the improvement project is available by telephoning the BLM Arcata Field Office at 707-825-2300.
---
The BLM manages more than 245 million acres of public land located primarily in 12 western states, including Alaska, on behalf of the American people. The BLM also administers 700 million acres of sub-surface mineral estate throughout the nation. Our mission is to sustain the health, diversity, and productivity of America's public lands for the use and enjoyment of present and future generations.