BLM eases restrictions on recreational shooting, campfires in NW California
BLM Office:
Arcata Field Office
Region:
California
Northern California DO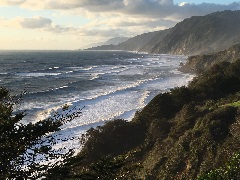 REDDING, Calif. – The Bureau of Land Management Redding and Arcata Field Offices have eased some fire restrictions on northern California public lands, now allowing target shooting, campfires within designated campgrounds and recreation sites, and use of barbecues and portable stoves outside of campgrounds.
"Visitors should remember that some fire restrictions are still in place," said Dereck Wilson, acting district manager for the BLM's Northern California District. "Fire danger is high, and it is imperative that all public land visitors use extreme caution with any use of fire."
Shooting will now be allowed from a half-hour before sunrise to noon daily on public lands managed by the Redding and Arcata field offices under  BLM fire restrictions still in place. This includes popular shooting areas at Iron Mountain Road near Redding and at Spring Branch Road in the Sacramento River Bend area.
The fire restrictions remaining in place prohibit all campfires on BLM-managed public lands Northwest California, except in the Redding Field Office's Forks of Butte, Junction City, Steel Bridge, and Douglas City campgrounds, and in the Shasta and Bohemotash campgrounds within the Chappie-Shasta Off-Highway Vehicle Area.  On the North Coast, campfires are again allowed at the Mattole, Tolkan, Nadelos and Wailaki campgrounds in the King Range National Conservation Area, and at the Samoa Dunes Day Use Area near Eureka.
Portable stoves and lanterns using gas, jellied petroleum or pressurized liquid fuel are allowed outside of these posted campgrounds and recreation sites, including the Lost Coast Trail, and in the Steiner Flat Campground, with a valid California campfire permit.
Visitors should be extremely careful with campfire use. Free campfire permits are available online at http://www.preventwildfireca.org/Campfire-Permit and at BLM, Forest Service and CAL FIRE offices.
Details about fire restrictions can be found in the fire orders for the Redding Field Office and Arcata Field Office.
The following fire restrictions remain in effect for all BLM-managed public lands in northern California:
No smoking, except within an enclosed vehicle or building, or at a designated, developed recreation site, or other designated area.                                                                    
No motor vehicles or internal combustion engines off established roads or trails. Chainsaws equipped with functioning spark arresters may be used for personal use firewood cutting until 1 p.m. daily.
No possession or use of fireworks, including California Fire Marshal-approved "safe and sane" devices.
Target shooters may not use incendiary, exploding, tracer, steel core or armor-piercing ammunition, or targets made of material that could explode or emit sparks. Target shooting will be allowed from a half-hour before sunrise until noon daily. Shooters must have shovels or fire extinguishers on hand.
Violations of fire restrictions are punishable by a fine up to $100,000 or up to 12 months in jail, or both. Restitution for total fire suppression and damage costs incurred may be borne by the trespasser.
---
The BLM manages more than 245 million acres of public land located primarily in 12 western states, including Alaska, on behalf of the American people. The BLM also administers 700 million acres of sub-surface mineral estate throughout the nation. Our mission is to sustain the health, diversity, and productivity of America's public lands for the use and enjoyment of present and future generations.