BLM Bakersfield releases hydraulic fracturing environmental analysis scoping report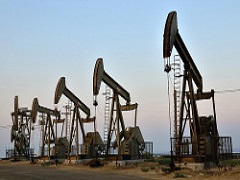 BAKERSFIELD, Calif. – The Bureau of Land Management Bakersfield Field Office has made available the scoping report for the supplemental environmental impact statement and potential Resource Management Plan amendment on hydraulic fracturing.
The focus of scoping is to identify hydraulic fracturing information related to environmental effects, methods of assessment and mitigation measures that could be included in a supplemental environmental analysis for the 2014 Bakersfield Field Office Resource Management Plan. The 2014 plan determined areas available for oil and gas development on approximately 400,000 acres of BLM-administered public land and 1.2 million acres of federal mineral estate in Fresno, Kern, Kings, Madera, San Luis Obispo, Santa Barbara, Tulare and Ventura counties.  
This environmental analysis is being conducted as part of a U.S. District Court Order issued May 2017, that requires the BLM to conduct supplemental analysis on the potential environmental impacts of hydraulic fracturing on public land and federal mineral estate within the Bakersfield planning area. The supplemental EIS will pertain only to new oil and gas leases and will not open additional public lands or federal mineral estate to oil and gas leasing within the boundaries of the Bakersfield Field Office.
The BLM received approximately 8,400 comments, of which 211 comments were unique and substantive, during the 30-day public scoping period in August.  The scoping report categorizes substantive comments into issues to be analyzed, including air and atmospheric values, water quality and quantity, seismicity, special status species, mineral resources and socioeconomics. Public input helps the BLM determine the size and scope of analysis needed, additional issues to study and a range of alternative management strategies. The scoping report is available online at https://tinyurl.com/y8x4f5cf.
A draft environmental analysis is expected to be available for public review in spring 2019.
---
The BLM manages more than 245 million acres of public land located primarily in 12 western states, including Alaska, on behalf of the American people. The BLM also administers 700 million acres of sub-surface mineral estate throughout the nation. Our mission is to sustain the health, diversity, and productivity of America's public lands for the use and enjoyment of present and future generations.
Organization
Bureau of Land Management
Office
Central California District Office
Contacts
Related Content