BLM Arcata Field Office hosting public meeting set to seek comments on OHV grant needs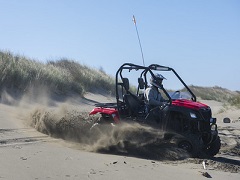 ARCATA, Calif. – The Bureau of Land Management's Arcata Field Office is holding a public meeting and accepting public comments regarding management needs and projects that would benefit off-highway vehicle recreation on public lands. The meeting is Tuesday, Feb. 11, at 5 p.m. at the BLM Arcata Field Office, 1695 Heindon Road, Arcata, CA, 95521.
Anyone interested can provide comments at the meeting, mail them to the BLM at the above address (attention Casey Hague), or send them via email to chague@blm.gov.  Hague will also take comments via telephone at 707-825-2322.  The deadline for comments is Sunday, March 1, at 5 p.m.
Arcata Field office staff will use the comments to develop a preliminary grant application to the California State Parks Off-Highway Motor Vehicle Division.
"This grant program helps us provide quality opportunities for local residents and visitors who enjoy OHV sports," said BLM Arcata Field Manager Molly Brown. "Partnerships such as this one with California State Parks are vital to managing sustainable public lands for multiple uses."
The BLM will submit project proposals to California State Parks on March 2.  Anyone interested can review preliminary applications by visiting the grants section at http://ohv.parks.ca.gov, from March 3 through May 4.
The BLM can use grant funding for education, law enforcement, trail monitoring, maintenance, construction, development, safety improvements and road repairs. In past years, the Arcata Field Office has used grant funds at the Samoa Dunes Off-Highway Vehicle Area near Eureka.
---
The BLM manages more than 245 million acres of public land located primarily in 12 western states, including Alaska, on behalf of the American people. The BLM also administers 700 million acres of sub-surface mineral estate throughout the nation. Our mission is to sustain the health, diversity, and productivity of America's public lands for the use and enjoyment of present and future generations.
Organization
Bureau of Land Management
Office
Arcata Field Office
Contacts
Related Content