BLM announces reopening of King Range National Conservation Area recreation sites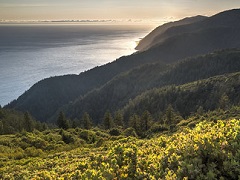 ARCATA, Calif. – Recreation sites in the King Range National Conservation Area, including the Lost Coast Trail, will be reopened to the public beginning Tuesday, June 23. Included in the reopening plans are the Mattole, Nadelos, Wailaki and Tolkan campgrounds and all trailheads.
"We are pleased to open recreation sites for public enjoyment," said Molly Brown, manager of the Bureau of Land Management Arcata Field Office. "We are reminding visitors that use of social distancing measures is still necessary, consistent with guidelines issued by Humboldt County public health officials."
Brown urged those planning to visit the King Range to check on current conditions by visiting www.blm.gov/programs/national-conservation-lands/california/king-range-national-conservation-area. She said the BLM will continue to follow COVID-19 guidance issued by the state of California and Humboldt County regarding keeping recreation sites open.
Those planning backpacking trips on the Lost Coast Trail must have permits with a start date of June 23, 2020, or later. Permits are issued through www.recreation.gov. The BLM asks people to cancel permits they can no longer use so that others can obtain a permit.
"We are also asking that visitors be considerate of COVID-19 prevention guidelines and orders now in place at businesses and services in the rural communities that are gateways to the King Range NCA," Brown said.  These county orders are posted at www.humboldtgov.org/2703/Related-News.
The King Range Visitor Center in Whitethorn will be open from 10 a.m. to 4 p.m. Monday through Friday, so visitors can obtain required bear cannisters, maps and tide charts. More information is available by contacting the King Range Office at 707-986-5400 or contacting Outdoor Recreation Planner Sandy Miles at smiles@blm.gov.
This year, we invite everyone to reimagine your public lands as we celebrate 75 years of the BLM's stewardship and service to the American people. The BLM manages approximately 245 million acres of public land located primarily in 12 Western states, including Alaska. The BLM also administers 700 million acres of sub-surface mineral estate throughout the nation. The agency's mission is to sustain the health, diversity, and productivity of America's public lands for the use and enjoyment of present and future generations. 
Organization
Bureau of Land Management
Office
Arcata Field Office
Contacts
Related Content