BLM accepting applications for Special Recreation Permit Subgroup of the California Desert Advisory Council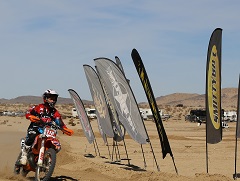 MORENO VALLEY, Calif. - The Bureau of Land Management's California Desert District is accepting applications from the public for six members of its Special Recreation Permit (SRP) Subgroup of the California Desert District Advisory Council to serve two-year terms. Applications will be accepted until January 21, and can be found on the Desert Advisory Council webpage.
The subgroup identifies operational issues in the application of required desert district SRP procedures, provides comments about current or proposed actions by BLM, and aids in accurately communicating SRP procedures to interested parties. Members are comprised of event permittees and participants who are familiar with planning, permitting, and implementing SRP events; representatives from 4-wheel, dual sport, and equestrian interests; and public spectators. Particular expertise desired of subgroup members includes experience with California SRP interests, and Nevada or Arizona SRP interests.
The subgroup reports its findings to the DAC, which ultimately advises the BLM's California Desert District manager. All members of the DAC SRP Subgroup serve without salary and meet at least four times per year. 
Any qualified person based upon education, training, and knowledge of the BLM, the California Desert, and the issues involving the BLM SRP program. Administration policy prohibits individuals who are currently federally registered lobbyists to serve on any FACA and non-FACA boards, committees, or councils.
Applications should be sent to: BLM California Desert District Manager, 22835 Calle San Juan de Los Lagos, Moreno Valley, CA  92553. As stewards, the BLM manages public lands for the benefit of current and future generations, supporting conservation in pursuit of its multiple-use mission.
---
The BLM manages more than 245 million acres of public land located primarily in 12 western states, including Alaska, on behalf of the American people. The BLM also administers 700 million acres of sub-surface mineral estate throughout the nation. Our mission is to sustain the health, diversity, and productivity of America's public lands for the use and enjoyment of present and future generations.
Organization
Bureau of Land Management
Office
California Desert District Office
Contacts
Related Content