Alabama Hills Public Workshop Scheduled for March 5
BLM Office:
Bishop Field Office
Region:
California
Central California DO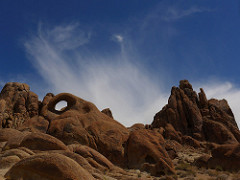 LONE PINE, Calif. – The Bureau of Land Management Bishop Field Office, in partnership with the Alabama Hills Stewardship Group, will host a public workshop on March 5 to share and gather information and ideas about current activities and management opportunities in the Alabama Hills.
The informal workshop will run from 6 p.m. to 8 p.m. at the Lone Pine Paiute-Shoshone Community Building, 975 Paya Rd., Lone Pine.
"Over the last 12 years the stewardship group has worked tirelessly to encourage public participation and a community-based approach towards conservation and management of the Alabama Hills," says BLM Bishop Field Manager Steve Nelson. "This workshop is a continuation of our mutual commitment to that approach."
The workshop will begin with a joint, informational presentation from the stewardship group and the BLM, followed by an interactive, multi-station workshop where participants can share their personal observations about specific uses and their ideas for maintaining the character of the Alabama Hills.
Set between the jagged peaks of the Sierra Nevada and the Owens Valley, the Alabama Hills is a unique formation of rounded rocks and eroded hills encompassing nearly 30,000 acres of public land that is well known for its mix of scenic, cultural, geological, educational, biological, historical, recreational, cinematographic and scientific values.
"I encourage anyone with an interest in the Alabama Hills to join us for this workshop. By sharing ideas and working together, we can all help ensure the hills remain a special place that we all cherish," says Nelson.
As stewards, the BLM manages public lands for the benefit of current and future generations, providing opportunities for outdoor recreation and supporting conservation in pursuit of its multiple-use mission. For more information, call BLM Supervisory Resource Management Specialist Sherri Lisius at 760-872-5000.
---
The BLM manages more than 245 million acres of public land located primarily in 12 western states, including Alaska, on behalf of the American people. The BLM also administers 700 million acres of sub-surface mineral estate throughout the nation. Our mission is to sustain the health, diversity, and productivity of America's public lands for the use and enjoyment of present and future generations.