Las Cruces District RAC explores Rincon Watershed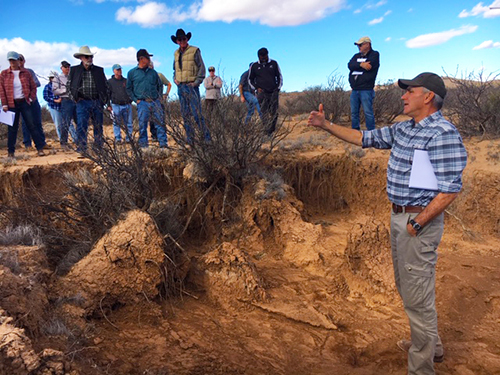 Members of the Las Cruces District Resource Advisory Council (RAC) in New Mexico recently participated in a two-day RAC meeting that included a field trip to the Rincon Arroyo Watershed in southern New Mexico.
The field trip was part of a joint effort by the South- Central New Mexico Stormwater Management Coalition and a number of other planning partners, including BLM, to raise awareness about the condition of the watershed and continued concern about vegetation loss, erosion, and sediment deposits in the Rio Grande.
Participants from various stakeholder groups including local ranchers, farmers, allottees, and staff from BLM, Natural Resources Conservation Services, US International Boundary and Water Commission, and others spent a day touring various sites within the watershed to get an up-close look at the issues that need to be addressed. The groups visited downstream sites where sediment accumulation and removal are significant issues. 
"This was a great opportunity for the Las Cruces District Resource Advisory Council to see first-hand how the Bureau is working with a local partnership to address watershed issues as outlined in Secretarial Order 3331 Supporting Watershed Partnerships," explains William Childress, Las Cruces District Manager.  "The collective knowledge, technical expertise and energy of the partnership is powerful."
Office
1800 Marquess Street
Las Cruces, NM 88005-3371
United States