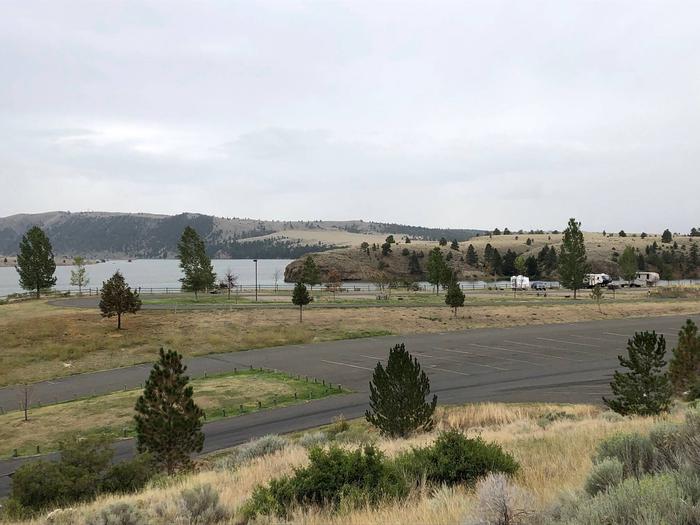 ADDRESS:
6563 HAUSER DAM RD HELENA, MT 59602
Latitude/Longitude:
46.74094, -111.88876
Directions:
From Helena drive north, from Great Falls drive south on I-15 to the Lincoln Road exit, turn east on Lincoln Rd and continue to the T-intersection with Hauser Dam Rd, turn left (North) and continue about 4 miles until you reach White Sandy Recreation Area directly in front of you on the right hand side of the road. If you get to Black Sandy state park, you have gone too far. 
Fee Description:
$15 per night per camping unit per site, with a maximum of 2 units per site. Group Loop-C Loop with Ramada/Pavilion is $140 per night with a maximum of 2 units per site (x6 sites = 12 units) with no additional fees.
*** You must occupy your campsite every night that you have reserved. If you do not show up for 24 hours from "Check-In Time" (2:00 PM), you forfeit the use of that site and are not entitled to any refunds or discounts. ***
*** You must occupy the site you reserved and cannot change sites, or move to a different loop of the campground.***
White Sandy Campground
Overview
White Sandy is located on the west side of Hauser Lake at the confluence of Prickly Pear creek. White Sandy faces Eldorado Bar and the beautiful Big Belt mountains. It is in an ideal location for outdoor recreation, wildlife watching, water sports, camping and swimming. 
Recreation
White Sandy offers excellent recreational access. There is a beach area, picnic areas, as well as a ramada/pavilion with power and lights, available by advanced reservation. There are vault toilets located in convenient locations throughout the site. There are trails throughout White Sandy as well as in the surrounding area. Additionally, there are multiple trails within the larger Hauser Lake Recreation area, as well as multiple fishing access sites, hunting access, wildlife viewing and of course, boating. World class mountain biking trails abound in the area as well. The recreation opportunities are truly boundless.
Facilities
 White Sandy offers several amenities that will make your stay enjoyable and comfortable. White Sandy is a 32-site campground that has spacious and level gravel parking pads that accommodate RVs, travel trailers and tents. Reservations are required at this site. 
White Sandy features a large concrete boat launch with a courtesy dock, as well as areas to beach your vessel. A fish cleaning station is available near the day-use parking at White Sandy. There are vault toilets located in each loop of the campground as well as near the boat launch and beach area. There is potable water provided throughout the campground and day use areas as well as garbage dumpsters. Every campsite contains a fire ring with a grill grate in addition to a picnic table. There are also picnic tables and small pavilions throughout the area. There is a small general store across from the entrance to White Sandy, additionally, Black Sandy state park is located just 1/4 mile up the road, which offers an RV dump station which is free to use if you are staying at White Sandy.
Natural Features
The campground and day use areas are situated in a shrub-steppe landscape, mostly comprised of sage brush and bunch grasses. Every campsite has a view of the lake and mountains. While there are some ponderosa pine and deciduous trees throughout the area, they are scarce and do not provide a large amount of shade, but the lake does help keep the temperatures down a bit on those hot summer days.
Nearby Attractions
White Sandy is located in a prime location to get out and recreate outdoors, or within the capital of Montana. There are hundreds of miles of trails, Bureau of Land Management and Forest Service lands, state parks, the Lewis and Clark Trail and so much more. 
Helena (only a short drive away) has all the amenities of a large city with small town charm. There are great restaurants, museums, the capitol building, old mining settlements, Last Chance Gulch, Reeder's Alley and a vibrant downtown with a walking mall area.
Charges & Cancellations
Reservation Cancellations & Changes
• Cancelling a Reservation: Customers may cancel their reservation prior to arrival both on-line and through the call center. A $10 service fee will be withheld from any refund for a cancellation. Depending on when you cancel in relation to your arrival day, it may be considered a late cancellation (see below).
• Group Facility (including Cabins and Lookouts): Customers who cancel a group overnight facility reservation less than 14 days before the arrival date will pay a $10.00 service fee AND forfeit the first night's use fee.
Late Cancellations or Cancellations within the Cut-off Window
• Individual Campsites: A customer who cancels a reservation the day before or on the day of arrival will pay a $10.00 service fee AND forfeit the first night's use fee (not to exceed the total paid for the original reservation). Cancellations for a one-night reservation will forfeit the entire amount paid and will not be subject to an additional service fee.
The recreation.gov cancellation policy can be found here: https://www.recreation.gov/rules-reservation-policies