Valley of Fires Recreation Area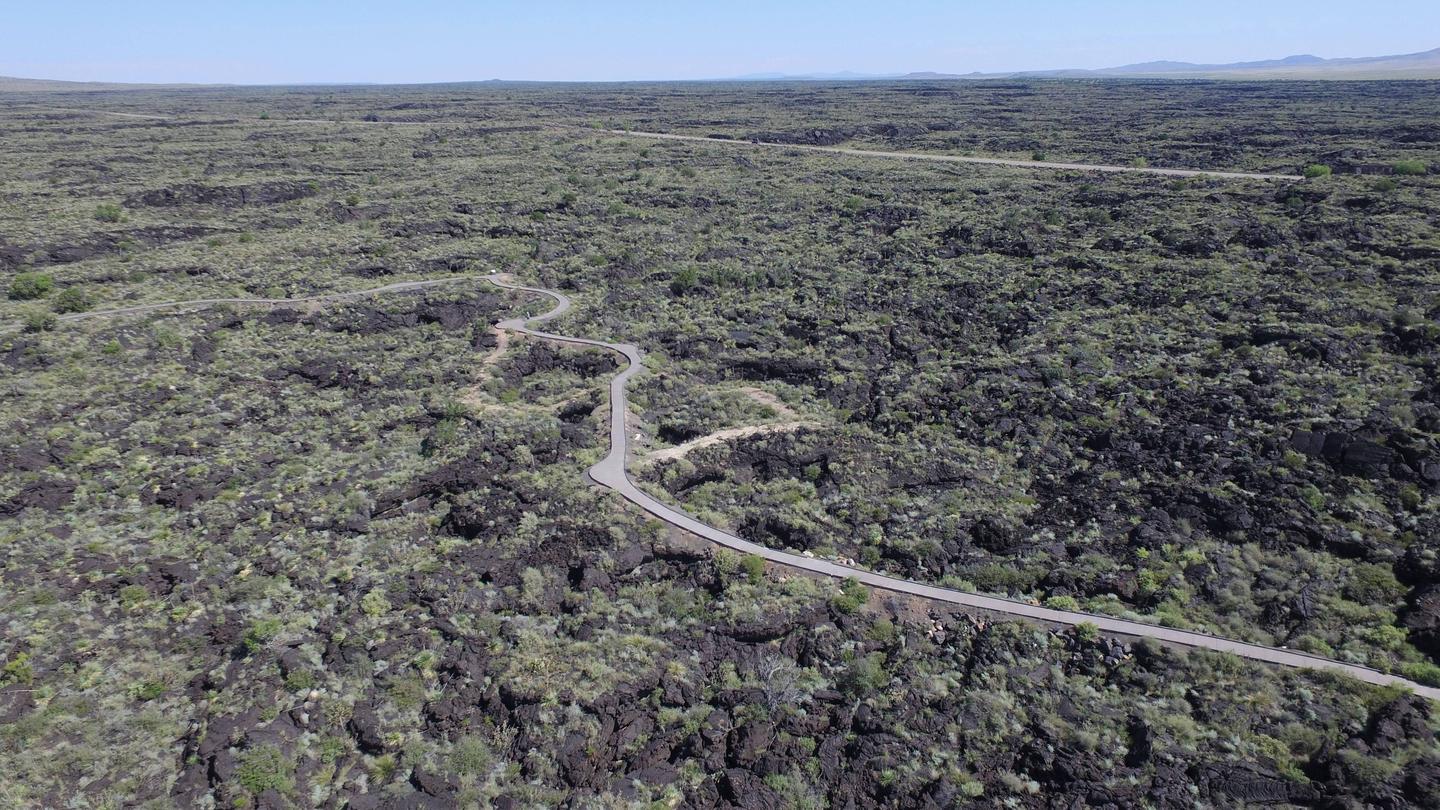 ADDRESS:
2909 West Second Street Roswell, NM 88201
Latitude/Longitude:
33.68475, -105.91988
Directions:
Travel four miles west of the town of Carrizozo on U.S. Highway 380. Valley of Fires recreation area is on the left.
Valley of Fires Recreation Area
Overview
Valley of Fires recreation area is located immediately adjacent to the Malpais Lava Flow. Approximately 5,000 years ago, Little Black Peak erupted and flowed 44 miles into the Tularosa Basin, filling the basin with molten rock. The resulting lava flow is four to six miles wide, 160 feet thick and covers 125 square miles. The lava flow is considered to be one of the youngest lava flows in the continental United States.    
The Bureau of Land Management maintains and manages the Valley of Fires Recreation area, which is located four miles west of Carrizozo, NM, on US Highway 380. Valley of Fires offers both camping and day use. The campsites have 30 and 50 amp electrical hookups, water hookups, picnic shelters, tables, trashcans and barbeque grills. Two of the RV sites are accessible, as are the restrooms. Showers are provided in the main restroom/shower house. An RV dump station is also available. Two group shelters are accessible and available for rental. The 3/4 mile Malpais Nature Trail offers a close-up look of the lava surface.
Recreation
Valley of Fires Recreation area offers opportunities for RV Camping (both full-service and primitive camp sites), tent camping and day use. The Malpais Nature trail offers a unique experience of getting trail users out into the lava. The trail is paved and accessible. Each campsite and group shelter is equipped with picnic shelter and picnic table(s) for the public's enjoyment.
Facilities
Each camp site features picnic shelter and picnic tables, tent pads (tent camping area), pedestal grills, campfire rings (most sites) as well as a trash can. 
There is a shower house with flush toilets centrally located within the campground, as well as accessible vault toilets and water spigots scattered throughout the area. Showers are included in your camping fee, or can be used by non-campers for a fee of $6.
The on-site dump station charge is included in camping fees or it can be utilized by non-campers for a $15 fee. 
The bookstore and gift shop offers information on the recreation area, wildlife and other nearby activities as well as offering the opportunity to purchase a wide variety of stuffed animals, books and other recreation area keepsakes.
Natural Features
From a distance, Valley of Fires appears as barren rock but when you walk through the nature trail there are many varieties of flowers, cactus, trees and bushes typical of the Chihuahuan desert. Animals include bats, roadrunners, quail, cottontails, mule deer, barbary sheep, and lizards. It's also a virtual birdwatcher's paradise with great horned owls, burrowing owls, turkey vultures, hawks, gnat catchers, cactus wrens, sparrows and golden eagles. 
Nearby Attractions
Carrizozo Land Partnership 
The Carrizozo Land Partnership provides access to recreators wishing to enter public lands managed by the BLM, between the Carrizozo Lava Flow and the White Sands Missile Range which can only be reached by crossing private land. The CLP, a partnership between the BLM, private land owners and ranchers of this area, has arranged for public access to BLM lands in this area by a vehicle pass process.
Once on the BLM lands in the area, the public is allowed to hunt, camp, hike, observe wildlife and other appropriate recreational activities. This partnership provides access to many miles of roads and thousands of acres of public lands for recreational enjoyment. 
Terrain is from flat to rolling, with some bluffy/hilly country overlooking the lava flows. High desert plant species inhabit this area, ranging from desert shrubs, multiple varieties of cactus and cedar/juniper trees.  
Other nearby camping/recreation opportunities:
Other nearby fee areas include campgrounds in the Lincoln National Forest, and the BLM Rob Jagger's Campground. There are numerous private RV Campgrounds in the area as well. 
Additonal nearby attractions include Capitan, Lincoln, and Ruidoso. Capitan, located 24 miles east of the Valley of Fires on U.S. Highway 380, is known as the birthplace of Smokey Bear, and features a popular visitor center. Lincoln, located 37 miles east on U.S. Highway 380, is famous as the site of the historic Lincoln County Wars as well as the exploits of Billy the Kid and Sheriff Pat Garrett. Ruidoso is a popular resort town that features a horse racetrack, the Ski Apache skiing resort, and the Inn of the Mountain Gods casino. 
The BLM's Fort Stanton National Conservation Area, located approximately 27 miles east of the Valley of Fires on U.S. Highway 380, has 93 miles of sustainable horseback, mountain biking, and hiking trails that wind through open meadows and canyons. Trails are marked with flexible fiberglass markers with the trail name or an arrow attached to the marker. Cross-country horse and foot travel is allowed. Mountain bikes are strongly encouraged to stay on established trails to protect the rider as well as the landscape. The trails offer great views of the surrounding Sacramento and Capitan Mountains. The majority of the trails start at the Rob Jaggers Campground on NM 220 where you will find excellent camping opportunities, water for your animals, and vault toilets.