BLM Nevada COVID-19 Information
All BLM Nevada offices have expanded operations but employees may still be teleworking. If you want to set up a meeting with a specific employee, we recommend making an appointment and our employees are always available by email and phone to answer questions and assist the public with their needs. More information is contained in the full text of the alert.
View the alert: BLM Nevada COVID-19 Information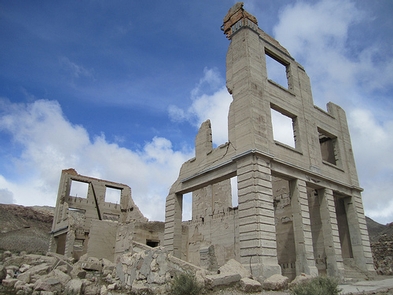 Address:
Tonopah Field Office PO Box 911 Tonopah , NV 89049
Latitude/Longitude:
36.89028, -116.82615
Directions:
4 miles west of Beatty on NV 374.
HISTORIC & CULTURAL SITE
Rhyolite Historic Area
This historic ghost town is known for its Cook Bank Building which is one of the most photographed buildings in the West. Day use only.
Historic ruins at this former gold-mining boomtown include the most photographed ghost town building in the West, the Cook Bank Building, and Nevada's best preserved "bottle house," constructed entirely of glass bottles. Death Valley National Park visitors frequently tour Rhyolite because it is along one of the major roads to the park.