Red Rock Canyon Campground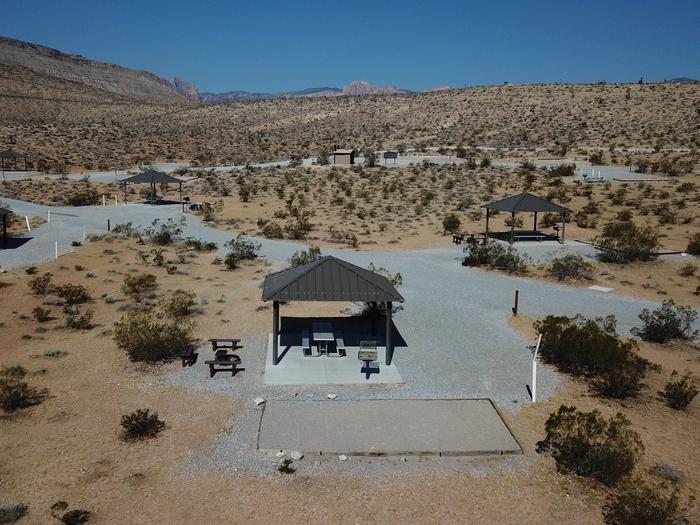 ADDRESS:
1000 SCENIC LOOP DRIVE Las Vegas, NV 89161
Latitude/Longitude:
36.1313889, -115.3838889
Directions:
The Red Rock Canyon campground is located at 3293 Moenkopi Rd., Las Vegas, NV 89161. To get there from Clark County 215 Beltway west, take the Charleston Blvd. exit (exit #26) and head west. Drive 3.5 miles to Moenkopi Rd. Turn south on Moenkopi Rd. and drive for a mile (past the BLM Fire Station).



Physical Address: Moenkopi Road, Las Vegas, Nevada 89161.
If you are using a mapping application search for "Red Rock Canyon Campground, Las Vegas, NV."
Fee Description:
Fees: $34.00 for reservations made through call center; $33.00 for reservations made through recreation.gov
(internet)
Passes: America the Beautiful Senior, Access passes, Golden Age, Access passes: 50% off camping fees (for passholder's site only). Must have permit onsite.
HISTORIC & CULTURAL SITE
Red Rock Canyon Campground
Overview
Red Rock Canyon's standard, RV, and group campsites are located in the stunning Red Rock Canyon National Conservation Area, an approximate 20 mile drive from "The Las Vegas Strip." Visitors enjoy hiking, rock climbing, bike riding and scenic driving in this unique Mojave Desert environment.
Note: If while visiting the area you would like to visit the Scenic Drive, you will need a separate timed entry reservation.
Recreation
The Red Rock Scenic Drive & Visitor Center as well as the Red Spring / Calico Basin areas are 3 and 2 miles respectively from the campground and accessible by vehicles. Activities available from the Red Rock Canyon Visitor Center are hiking, bike riding and rock climbing with guided hikes and educational programs available on certain days.
Facilities
There are 53 individual standard sites. Ten people and two vehicles are allowed per site in the individual sites. There are six RV sites which have room for one RV and a vehicle. Seven large group sites can accommodate up to 20 people and 8 vehicles. All standard sites and group sites contain picnic tables, grills and campfire circles. All group sites have shaded picnic table area. Some individual standard sites have shaded picnic table areas. Each group site is primarily tenting with 10 individual small tent areas/group sites. Vault toilets, trashcans, and drinking water (in the individual camping area) are provided. While Moenkopi Road is paved, the roads throughout the campground are gravel.
Natural Features
Red Rock Canyon's unique geology with multicolored sandstone atop of gray limestone creates a unique environment with seasonal springs and streams. There are 54 year-round water sources in the Spring Mountains. It's also home to threatened desert tortoise and living cultural reminders of the pioneer past, wild burros and horses. The campground is in a quiet bowl near some of the most popular rock climbing destinations in the country, providing privacy with limited shade under the group picnic pavilion.
Nearby Attractions
More than 60 miles of hiking trails; access to over 2000 documented rock climbing routes; picnic areas; mountain and road biking; horseback riding and scenic byway touring are also popular and available nearby.
Charges & Cancellations
Cancellations*: *cancellation becomes a "late cancellation" at 12:01 am EST on the day before arrival. • $10.00 fee if reservation is changed/cancelled earlier than the day before arrival. • $10.00 plus first night's camping fee is charged if reservation is cancelled the day before or the day of the arrival, except when the reservation is only for 1 night (in which case only the first night's camping fee is charged). No Shows: customer does not arrive and/or does not cancel reservation by check out time (11 :00am) the day after the scheduled arrival date. $20.00 service fee charged and forfeit the first night's user fee • If requested before the late cancellation window: NRRS will handle • If requested during the late cancellation window (day before arrival, or day of arrival): Customer will be charged first night's use fee, and refunded rest • If requested after arrival, during or after departure from site: recreation.gov processes and field office has to approve
Accessibility Description (ABA/ADA):
N