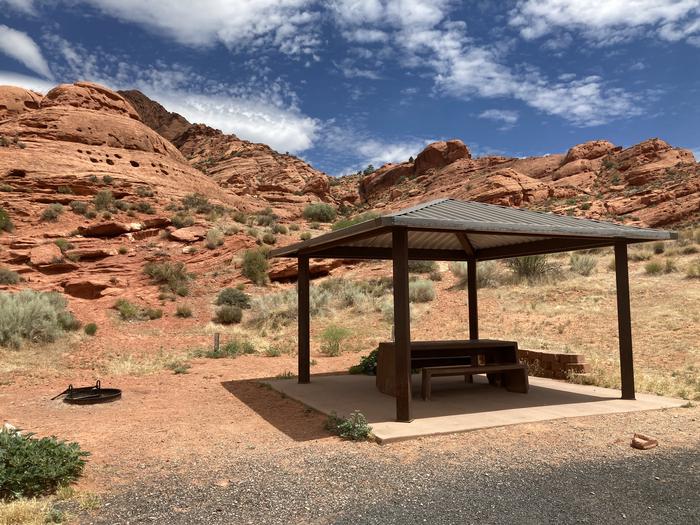 Latitude/Longitude:
37.22167, -113.40331
Directions:
From St. George: Take Interstate 15 north to Exit 22/228 N-Leeds. At the end of the off-ramp, turn right onto Old Highway 91. Travel south 1.5 miles and turn right. Continue under two freeway tunnels (tunnels restrict vehicle size to less than 12 feet in height and width) turn left and follow the paved road for 1.3 miles into the campground.  
From the north: take I-15 South and exit at Exit 23/228 S/Leeds and go left under highway. Turn right on S. Main Street for 3.2 miles. Take right and Continue under two freeway tunnels (tunnels restrict vehicle size to less than 12 feet in height and width) turn left and follow the paved road for 1.3 miles into the campground.  
Red Cliffs Campground
Overview
Red Cliffs Recreation Area includes a campground, day use areas, a non-motorized trail system, and interpreted public use sites. Dinosaurs left their footprints, now visible in the sandstone. Ancestral Puebloans lived here in the 10th century, growing corn, beans, and squash along Quail and Leeds Creek. Mid-19th century pioneers farmed here, supplying the area's silver miners with food. Located within the Red Cliffs
National Conservation Area, the Recreation Area is managed to conserve and protect the natural and cultural resources of the public lands. 
Recreation
The Red Reef Trail follows Quail Creek into the Cottonwood Canyon Wilderness and is a very popular hike in the spring when seasonal runoff fills water pockets and plunge pools in the stream channel. There are many other trails in the Recreation Area that are scenic and enjoyable for hikers and mountain bikers, for shorter, moderately difficult rides. The White Reef Trailhead accommodates both large and small horse trailers, making it an ideal place for equestrians to start a longer distance ride on the Prospector Trial which connects to the equally popular Church Rocks Trail for extended riding.
Facilities
The Red Cliffs Recreation Area 's campground is open year round and includes 11 campsites with shade shelters, picnic tables, potable water, and grills. Sites 8 and 11 are accessible for visitors with disabilities, while sites 6,7, and 10 have pull-through parking. Only two vehicles are allowed per campsite. Accessible vault toilets are located between sites 5 and 7. Pets must be on a leash and under control at all times. Quiet hours are from 9 pm to 7 am.
Fees
Interagency Annual, Access, Senior and Military Paases are hinored for day uase fees only. All fees collected at this site are used to fund operations, improvements, and repairs to the recreation area.
Camping Restrictions
Stays are limited to 14 days. To protect the area's natural resources and to minimize impacts to private property, camping is prohibited on BLM managed lands within one mile of the recreation area.
Natural Features
The campground and day use areas of the Recreation Area are located at the base of towering red cliffs of Navajo Sandstone. Quail Creek flows through the campground and supports mature cottonwood trees and willows that provide shade for many of the campsites and the day use areas. You may see a flock of Gambel's quail or hear canyon wrens as you hike the trails the follow Quail and Leeds Creeks. If you're lucky, you might spot a Mojave desert tortoise or a Gila monster, whose beaded skin and bold color patterns make it a standout among desert reptiles. To protect all of these native species and their habitats, please stay on designated trails.
Nearby Attractions
Quail Creek State Park. Zion National Park.