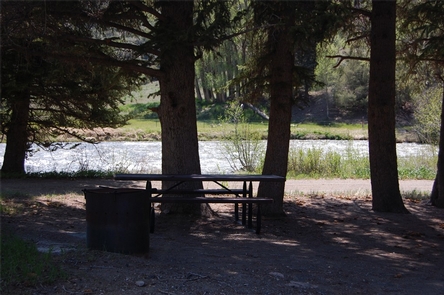 Address:
Gunnison Field Office 210 West Spencer Avenue Gunnison, CO 81230
Latitude/Longitude:
38.322, -107.225
Directions:
From Lake City, drive north on Highway 149 approximately 21 miles. As the road makes a strong turn to the right, look for a gravel road (County Road 25) and mailboxes on your left. Turn left and travel about 2.3 miles to the Red Bridge Campground.
Fee Description:
$5/Night
Red Bridge Campground
Red Bridge Campground is a short distance off of the Silver Thread National Scenic Byway. You'll find public fishing access to the Lake Fork of the Gunnison River, and access to the Lake Fork Spur scenic drive. Red Bridge Campground located on the Lake Fork of the Gunnison River and is a perfect place for someone to relax and fish. The campground has 7 campsites and 1 restroom. Each campsite has a parking spur, metal fire ring, and a picnic table. Potable water is not available at this campground. For more information, please contact the Gunnison Field Office.
Accessibility Description (ABA/ADA):
1 restroom is ADA accessible.