Powder Wild and Scenic River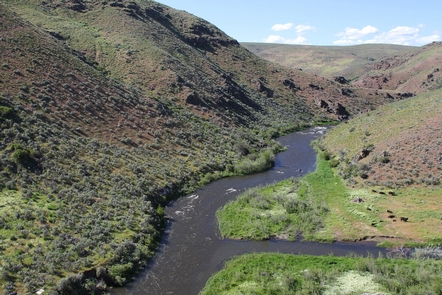 Address:
Vale District Office 100 Oregon Street Vale, OR 97918
Latitude/Longitude:
44.95174, -117.73141
Directions:
From Baker City, Oregon: Head north on I-84 for 5 miles and take exit 298 for Medical Springs/OR-203 toward Halnes for 0.2 miles. Turn right onto OR-203 N/Medical Springs Highway and drive 9.7 miles to a bridge over the Powder River. The wild and scenic segment is immediately upriver from this bridge.
Powder Wild and Scenic River
Overview:
Flowing 11.7 miles from Thief Valley dam to highway 203 in Oregon's Baker County, the wild and scenic Power River cuts a weathered canyon in paces up to 500 feet deep. Access is limited, so cross-country travel may be required to get to the heart of Powder River country; however, one is rewarded with plenty of solitude for the effort.
Know Before You Go:
Check locally for access to the Power River; avoid trespassing by obtaining permission to cross private property.
The river is sometimes kayaked during the Spring runoff period, which can be a very limited period of time. Only highly-skilled boaters should attempt kayaking the Powder River.
When recreating on public lands, please practice Leave-No-Trace principles.
Point of Interest:
Long before the arrival of pioneers and settlers, the Cayuse, Umatilla, and Nez Perce Indians utilized the hunting and fishing grounds along the length of the Powder River.