Penitente Canyon Campground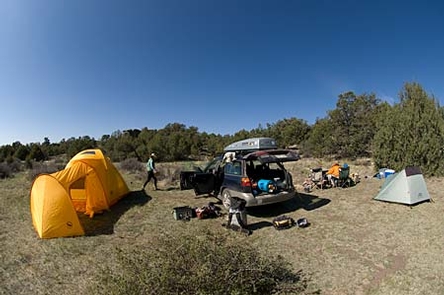 Address:
San Luis Valley Field Office 1313 East Highway 160 Monte Vista, CO 81144
Latitude/Longitude:
37.84181, -106.28002
Directions:
From Highway 285: Turn west on County Road G, travel about 6 miles to La Garita follow County Road 38A. The Penitente Canyon turn will be on the right, less than a mile.
From Del Norte: Travel northeast on Highway 112 to road 38A. Turn north, stay on 38A until you see signs for Penitente Canyon, about 8 miles.
Penitente Canyon Campground
Penitente Campground is located in the Penitente Canyon Recreation Area. Avid rock climbers will love the walls and pinnacles of Penitente Canyon Recreation Area. Technical climbing through nearly 300 world-class routes will test both abilities and endurance. In addition, an extensive trail system offers excellent hiking, mountain biking and horseback riding. For an extended stay, a developed campground and primitive camping are both available. Penitente Canyon has a unique history as a spiritual haven for a Spanish religious group long ago. In the more recent past, the "Virgin de Guadalupe" was painted onto one of the canyon walls. In addition, the Old Spanish National Historic Trail, formerly a 19th century Mexican trade route, passes by this area.

The campground is located in a scenic canyon with an interpretive site, sites for tent camping and trailer camping, picnic tables, and vault toilets. There are nine walk-in tent sites, four drive-in tent/camper sites and two group sites. The facility has five vault toilets and an onsite camp host. Quiet hours are 10 pm – 7am. Generators are not allowed during quiet hours. For more information, please contact the San Luis Valley Field Office.