Peach Valley OHV Staging Area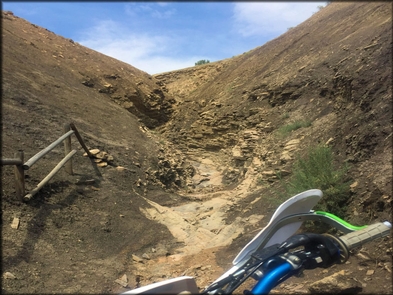 Address:
Gunnison Gorge National Conservation Area 2505 South Townsend Avenue Montrose, CO 81401
Latitude/Longitude:
38.59579, -107.89249
Directions:
From Olathe, Colorado travel 4.5 miles east on Falcon Road to the staging area.

From Montrose: Head northwest out of town on N Townsend Ave/US-50 W approximately 9.2 miles to Falcon Rd. Turn east at Falcon Rd and follow approximately 3.8 miles where it curves slightly left into Peach Valley Rd. Continue approximately 0.7 miles to trail access.
Fee Description:
OHV registration is required. Out of state visitors are required to obtain a Non-resident registration. Visitors to the Gunnison Gorge Wilderness Area will be charged the following user fees: Day Use Only (in and out the same day) = $3 per person. Day Use & Camping = $5 per person per calendar day. 1 night = $10. 2 nights = $15 (maximum allowable stay). Annual Pass for Day Use - $15 per /year. Fees apply to all users, 16 years of age and older, within the river canyon from the down-stream boundary of the Black Canyon of the Gunnison National Monument (2 miles upstream of the Chukar Put-In) down to, but not including, the Smith Fork confluence (10 miles downstream of the Chukar Put-In).
Peach Valley OHV Staging Area
This is a staging area for OHVs no more than 50" in width. Site amenities include loading ramps, shade structures, picnic tables, trailer parking, training area, beginner loop, skills course, and vault toilets. The site is within the 900-acre Peach Valley OHV Open Play Area. Outside of open play areas all vehicles are required to stay on designated routes. For more information, please contact the Gunnison Gorge NCA or Uncompahgre Field Office.
Accessibility Description (ABA/ADA):
No