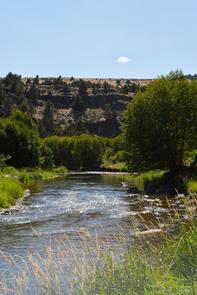 ADDRESS:
Bureau of Land Management Burns District Office Hines, OR 97738
Latitude/Longitude:
42.805971, -118.867677
Directions:
From Burns, Oregon, take State Highway 78 southeast for approximately 2 miles. turn firght onto State Highway 205 and travel south for 60 miles to Frenchglen, Oregon. Just past Frenchglen, turn left onto the Steens Mountain loop Road. Follow the Loop Road for approximately 3 miles before turning into Page Springs Campground to the right, just across the Donner und Blizten River. 
Fee Description:
Camping Fees are $16/vehicle, per night, for a single car, truck, or RV and towed vehicle. Additional passenger vehicles $5/night. All sites available on a first-come, first-served basis. No reservations accepted. Please occupy site before proceeding to payment kiosk (near campground entrance) for payment. 
Traditional cash and check payment and electronic payment via Scan-and-Pay and Remote-Automated-Kiosk accepted at payment kiosk. 
Page Springs Campground
Overview
Page Springs Campground is located at the base of Steens Mountain, just three miles from the town of Frenchglen, Oregon. Thrity-six roomy campsites situated under cottonwood and juniper trees and near the Donner and Blitzen River welcome visitors year-round. The campground serves as the trailhead for two short hikes: the Blitzen River Trail meanders four miles up the river, while the Wilderness Nature Trail climbs gradually to the top of the bluff overlooking the valley floor and looping one total mile. Page Springs also offers a large, covered picnic area for no-fee day use, mulitple vault restrooms, trash cans for public use, and drinking water.  
contact_info
For facility specific information, please call (541) 573-4400.
Charges & Cancellations
All sites are available on a first-come, first-served basis. No reservations accepted. Site must be physically occupied before payment to ensure site availability. No refunds issued.