Owyhee Wild & Scenic River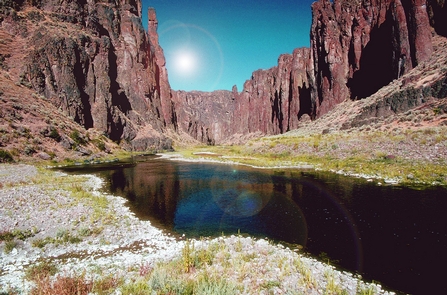 Address:
Vale District Office 100 Oregon Street Vale, OR 97918
Latitude/Longitude:
42.83613, -117.6212
Directions:
From Rome, Oregon: Head east 0.3 miles on US Highway 95 over the Owyhee River, and turn right (south) on the first graveled road. Proceed another 0.3 miles to the Rome Launch Site.
HISTORIC & CULTURAL SITE
Owyhee Wild & Scenic River
This wild river corridor flows through southeastern Oregon from the Idaho/Oregon state line to Owyhee Reservoir. (It excludes the Rome Valley, which is a ranching and agricultural area.) Explore this National Wild and Scenic River by floating some of its 120 miles through rugged, spectacular canyonlands and ash flows. The river was included in the National Wild and Scenic River System in 1984 because of its outstanding scenic, recreational, geologic, wildlife, and cultural values.
Explore Oregon Recreation: Owyhee River