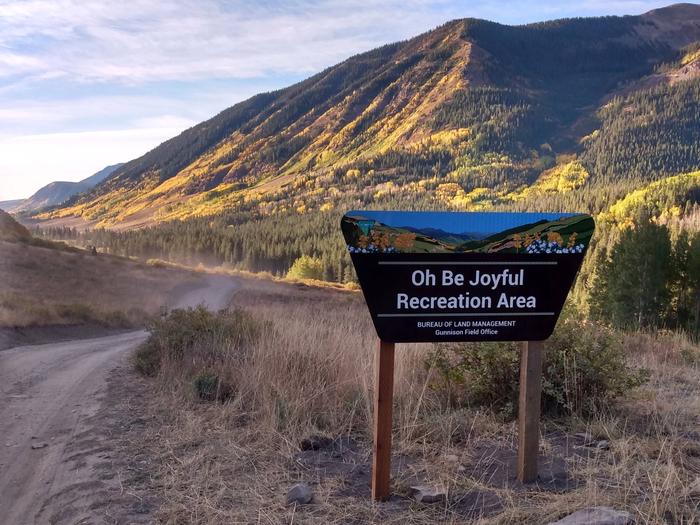 Latitude/Longitude:
38.914376, -107.032762
Directions:
From the town of Crested Butte, drive north on Gothic Road. (County road 317) towards Mount Crested Butte. Cross the Slate River and turn left on Slate River Road (County Road 734). Follow this up the valley for approximately 5 miles to BLM Road 3220. Turn left onto BLM Road 3220 and continue for approximately 0.3 miles to a Oh Be Joyful Campground. BLM Road 3220 is steep and rough, low clearance vehicles and larger RVs may want to scout the road before driving down to the campground.   
Fee Description:
$10 a night
14 Day Max Stay
Oh Be Joyful Campground
Overview
Approximately 5 miles from Crested Butte, Colorado, Oh Be Joyful Campground is a 30-unit campground along the Slate River. The campground itself gets its name from nearby Oh Be Joyful Creek that features massive waterfalls and colorful wildflowers in the summer months. The campground is located at approximately 9,000 feet in elevation and the views are spectacular.  
Recreation
This premier area is known for camping, fishing, horseback riding, sight-seeing, hiking/walking, water play, kayaking, mountain biking, wildflower viewing, and motorized recreational uses. A foot bridge allows visitors to access the west side of the Slate River to hike along Oh Be Joyful Creek and into the Raggeds Wilderness.
Facilities
This 30-unit campground was recently renovated and has 14 RV campsites, 15 walk-in tent campsites, one walk-in group campsite and 3 vault restrooms. This campground is normally full and not available unless you have a reservation. Each campsite has a parking space, metal fire ring, picnic table, tent pad and bear proof food storage locker. Drinking water, electric hook-ups and trash service are not available at Oh Be Joyful so bring your own water and plan to take your own trash with you when you leave.   
Parking is available for day use visitors who come to Oh Be Joyful to hike, play in the water, picnic, etc.   
The access road (BLM Road 3220) into Oh Be Joyful Campground is steep and can be rough. The campground can accommodate RVs but the rough road down to the campground may not be suitable for larger low clearance rigs.  
Natural Features
The campground sits directly on the east bank of the Slate River and is nestled in a valley with mountains on either side of the valley. Due to the abundance of moisture in the spring and early summer, wildflowers are abundant. Look for our State flower the Columbine and other species including Indian Paintbrush and Avalanche Lilies.
Nearby Attractions