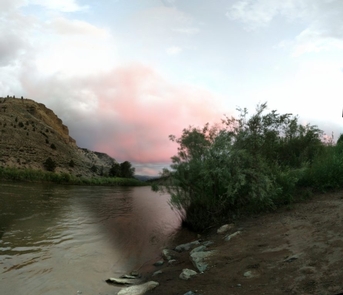 Address:
Colorado River Valley Field Office 2300 River Frontage Road Silt, CO 81652
Latitude/Longitude:
39.69905, -107.07292
Directions:
Take the Dotsero exit off I-70 (exit 133). Head north on the Colorado River Road. Lyons Gulch Recreation Site is 3.8 miles up on the right.
Lyons Gulch Boat Launch
Lyons Gulch is a free BLM site featuring a boat launch, which includes a toilet and five campsites. Campsite #1 can accommodate larger groups. The restroom is closed November 15th to May 15th. Cat holes are not permitted due to the proximity to the river. Do not camp in this location during heavy rains due to mud slides and flooding. For more information, please contact the Colorado River Field Office.
Accessibility Description (ABA/ADA):
ADA Accessible Restrooms