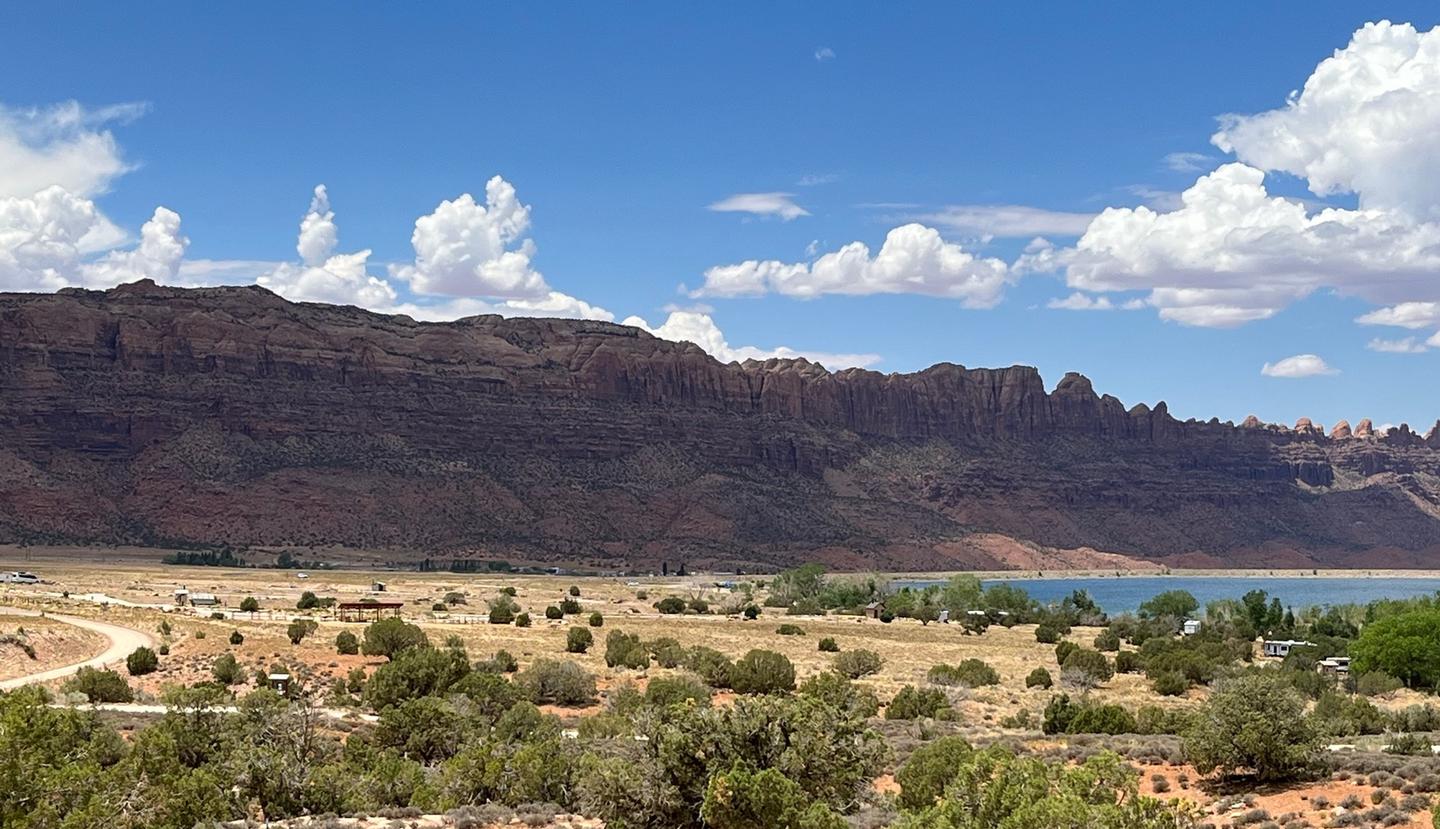 ADDRESS:
82 East Dogwood Avenue Moab, UT 84532
Latitude/Longitude:
38.476743, -109.422438
Directions:
From Moab, drive south on Highway 191 until you see signs for Ken's Lake, approximately 8 miles. Turn left off the highway and follow signs to the lake. The campground is just beyond the turn to the lake. Loop A is in the first campground loop and B is the second loop.
Fee Description:
$20 per site per night plus reservation fee.
Ken's Lake Campground
Overview
ATTENTION: 
Loop A campsites are available by reservation only through Recreation.gov. Reservations can be made the day of, up to 6 months in advance from anywhere service is available. This is the only option, cash and check payments are NOT available onsite. There is cell service for most providers at the campground entrance. 
Loop B campsites are available first-come, first serve only. Payments can be made by cash, check, or scan and pay through the Recreation.gov mobile app. 
Please contact the BLM Moab Field Office with questions by email: blm_ut_mb_mail@blm.gov or phone: 435-259-2100.
Ken's Lake Campground is a part of the Ken's Lake Recreation Area. The area includes Ken's Lake, a man made reservoir (electric motors only - gas powered engines are prohibited), day use area with a gravel boat ramp, campground, and hiking/equestrian trails. Construction of the reservoir was part of the Mill Creek Project, completed in 1981, which also included a pressurized irrigation water delivery system. In 2000, the site was constructed into a campground and day use area for visitors to enjoy the surrounding recreational activities and scenic vistas. 
Located 10 miles south of Moab, Ken's Lake is surrounded by red rock fins to the east, sage brush flats to the south and west, and a reservoir to the north. Distant views from the campground also include the La Sal Mountains and red rock Moab Rim. This site is located at 5,085 feet elevation, similar to Moab. Be prepared October to March for lows below freezing and from June to August highs from 95 to above 100 degrees Fahrenheit.  
This campground is comprised of loops A and B. Loop A has no vegetation providing shade and is closed during low use season (summer and winter; exact dates vary each year). Loop B stays open year round and has a variety of sites with juniper and cottonwood trees providing shade and privacy. 
Loop A is popular with visitors that have large motorhomes and trailers. Loop B has smaller sites and it is difficult for large motorhomes and trailers to turn-around. 
The south end of the Steel Bender Jeep Safari Route runs next to the campground, so Off Highway Vehicle (OHV) users are also drawn to this area. Other popular activities originating from the campground or day use area include: hiking, horseback riding, fishing, and non-motorized boating. There are over 3 miles of trails in the lake vicinity with views of the Moab Valley, Faux Falls, La Sal Mountains, and Ken's Lake.
Recreation
The town of Moab is a hub for recreation. Tour operators offer guided hikes, rentals and evening entertainment. The area abounds with trails, dirt roads and canyons waiting to be explored.
Facilities
Each campsite has a gravel parking pad for two vehicles (vehicle pulling a trailer = two vehicles), picnic table, fire ring, and close proximity to a vault toilet and trash receptacles. 
There is no drinking water or electricity hook ups at this campground. 
During Spring and Fall a campground host is stationed at this campground. Campground hosts assist visitors with acquiring a campsite, trip planning, and campground etiquette education.
Natural Features
A few miles east of the campground, Mill Creek flows out of the La Sal Mountains. Water from this creek has been diverted to flow along a creek on the north side of the campground and is captured at Ken's Lake Reservoir. Along the diverted creek's path is Faux Falls. From the campground, visitors can hike or ride horseback on a trail to the falls or directly to the lake.
Nearby Attractions
Arches and Canyonlands National Parks and Hovenweep and Natural Bridges National Monuments are nearby. Also in the area are the Manti-La Sal National Forest and the La Sal Mountain Loop Road, which provide interesting exploration opportunities and cooler temperatures during the summer months.
Charges & Cancellations
You may contact the BLM Moab Field Office for assistance with changes and cancellations at 435-259-2100.  
Changes
You can make changes to a reservation through your online Recreation.gov user account any time prior to the arrival/first date of the reservation.
There is a $10 change fee If you wish to change to dates entirely outside of the original reservation dates.
There is no change fee if you wish to extend or shorten the original reservation dates as long as the changes include dates from the original reservation.  
There is no change fee if you wish to change to another site that is the same price, for the same dates, and in the same campground.  
You cannot make changes to your reservation after the arrival/first day through your Recreation.gov account. However, the BLM Moab Field Office may be able to assist you, 435-259-2100.   
For reservations with dates at the end of the available booking window (a.k.a. sliding window), you will not be able to make changes or cancellations until the site has been available to the general public for 18 days.   
Cancellations
Please cancel your reservation if you do not plan to use it. This opens highly sought-after campsites for others to reserve. 
You can cancel your reservation online through your Recreation.gov user account or through the call center (the call center incurs an additional fee). You may also contact the BLM Moab Field Office for assistance. A $10 service fee will be withheld from any refund for a cancellation.    
Late Cancellations 
A late cancellation occurs starting from midnight 1 calendar day before your scheduled check-in.
Late cancellations will incur a $10.00 service fee AND forfeit the first night's use fee. Cancellations for a one night reservation will forfeit the entire amount but will not be charged a service fee. 
Early Departures
If you spend at least one night and then leave prior to the scheduled departure check-out date, please contact the BLM Moab Field Office (435-259-2100) to open the remaining nights for others to use. You will not be able to cancel these nights through your Recreation.gov account.
You will be eligible for a partial refund of the nights AFTER you depart that you did not use. If you depart after the facility check-out time (Noon), you will not be eligible for a refund for that night.   
No-Shows
A No Show occurs if you do not arrive at your campsite or cancel your reservation by check-out time (Noon) on the day after the scheduled arrival date. Staff will hold a campsite until check-out time (Noon) on the day following the arrival date. 
No-shows are assessed a $20.00 Recreation.gov service fee and forfeit the first night's use fee.   
Refunds
You can submit a refund request through your Recreation.gov account within 7 days of the departure/end date of your reservation.
Applicable fees, such as the Recreation.gov reservation fees, service/cancellation fees, lottery application fees, and change fees, are non-refundable.
Refunds cannot be issued to any card other than the one used to pay. 
In the event of an emergency closure, all fees will be refunded. Attempts will be made to notify you using the contact information within your Recreation.gov customer profile.   
Interagency Pass Discounts
The following are the only Interagency Passes that provide a discount on camping reservations:
Senior Annual Pass
Senior Lifetime Pass
Access Pass
Golden Age Pass
Golden Access Pass
Pass discounts only apply to the recreation (or use) fee for the facility. Other charges such as reservation or other fees are not eligible for a discount.
The holder of the pass must occupy the site for which the discount is applied.
The pass can only be used for one site during a time period.