John Day Wild and Scenic River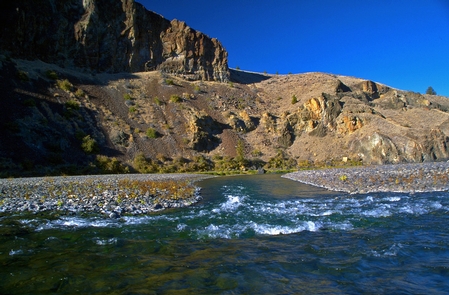 Address:
Prineville District Office 3050 NE 3rd Street Prineville, OR 97754
Latitude/Longitude:
45.11004, -120.46108
Directions:
Service Creek : From Prineville, Oregon:Take US 26 east out of town and drive 46.5 miles to OR 207 N. Turn left and drive 23.5 miles. Service Creek Campground and boat launch will be on the right.

Clarno : From Prineville, Oregon:Take US 26 north out of town and drive 30 miles to US 97. Turn right and stay on US 97 for 19.5 miles. Turn right on OR 293 and proceed 13.6 miles to OR218 and turn right continuing another 15 miles to the Clarno Boat Launch on the left (north) side of the highway.
HISTORIC & CULTURAL SITE
John Day Wild and Scenic River
Overview:
From its headwaters to Camas Creek, the North Fork of the John Day River is one of the most important rivers in northeast Oregon for the production of anadromous fish. Wildlife found along the river's corridor include mule deer, elk, and black bears, along with peregrine falcons and bald eagles. Recreation opportunities include hunting, fishing, sightseeing, horseback riding, hiking, snowmobiling, skiing, camping, and whitewater rafting
The John Day River system is fortunate to have designation under two important river preservation programs: the National Wild and Scenic Rivers Act and the Oregon Scenic Waterways Act. Together, these two acts, one a federal program and one a state program, provide the best protection available today for the natural, scenic, and recreational values of our river environments.
Know Before You Go:
Permits: A permit is required to boat the John Day River. See link below for further permit information.
Fire Closure: Due to high fire danger, the John Day River is closed to all campfires and charcoal fires from June 1 through September 30 each year. Propane and white gas stoves and shielded lanterns are permitted. Smoking is permitted only in a closed vehicle, while standing in the water, or while in a boat on the water. Using or possessing fireworks is prohibited at all times.
Firepans: Ground fires and rock fire rings are not permitted. Fires and ash must be completely contained in a metal firepan with sides at least two inches high. Locate the firepan near the river, away from dry vegetation, and elevate the firepan on rocks to prevent fire scars. Burn wood from home, charcoal, driftwood, or dead and down vegetation. Standing vegetation, either dead or alive, may not be cut or gathered. All campfire residue must be carried out of the canyon.
Pack It In, Pack It Out: Remove all garbage from the river canyon, including cigarette butts, toilet paper, and nut shells. Food scraps should be picked up from the kitchen area and packed out, to keep insects and mice to a minimum. Do not bury trash; animals will dig it up. Trash receptacles are not available at take-out sites. Trash must be transported home for disposal.
Carry Out Human Waste: On overnight trips, all boaters are required to carry and use a leak-proof, portable, reusable toilet system to remove solid human waste from the river canyon. The toilet must be large enough to service the entire party for the complete length of the trip. Toilets using plastic bags are not acceptable, with the exception of the Wag Bag or similar human waste pouch designed for this purpose, which are permitted. Used Wag Bags must be transported in a leak-proof container. River toilet dump stations and special Wag Bag disposal containers are available at Clarno and Cottonwood take-outs. A list of RV dump stations is posted on BLM bulletin boards. Disposing of Wag Bags in a river toilet dump station or vault toilet is prohibited.
Maximum Group Size: Group size is limited to 16 persons while boating or camping.
Motorized Boating: The John Day River is closed to motorized watercraft year-round between Clarno and Cottonwood Bridge and is closed seasonally from May 1 to September 30 between Service Creek and Clarno and between Cottonwood Bridge and Tumwater Falls. (An exception is made for small electric motors, 40 lbs. thrust or less, which are permitted between Service Creek and Clarno.) There are no motorized boat restrictions upstream of Service Creek. The river is closed to personal watercraft (jet skis) year-round upstream of Tumwater Falls.
Point of Interest:
The John Day is the second longest free-flowing river in the continental United States and the longest undammed tributary of the Columbia.