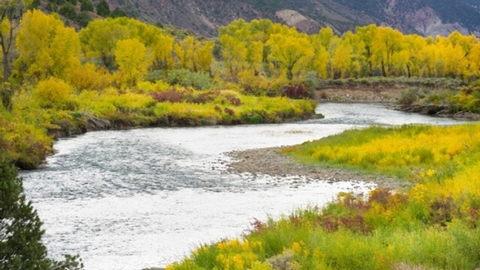 Address:
Colorado River Valley Field Office 2300 River Frontage Road Silt, CO 81637
Latitude/Longitude:
-106.9762, 39.65555
Directions:
I-70 Exit 140 at Gypsum and turn south. Turn right on the frontage road (Old Highway 6) and go 1.5 miles past the roundabout. Take a left to the Gypsum Recreation Area.
Gypsum Campground
A developed public campground which borders Eagle River from Edwards to Dotsero and is near steep slopes and cliffs up to 800 feet above the river. River is at mid-level elevation and is accessible year round. Inactive volcanic crater and lava flow are nearby to Dotsero. Visitors who want to enjoy camping, picnicking, sightseeing, and wildlife viewing can access the river from the campground, which offers gravel roads with primitive walk in fishing and camping. Wildlife includes ducks, geese, blue heron, bald eagles and other raptors. Recreation activities in the area includes rafting and fishing. Floating season generally occurs during late May through July. For more information, please contact the Colorado river Valley Field Office.