BLM New Mexico COVID-19 Information Update
The Department of the Interior's current COVID-19 policy incorporates CDC guidance. As CDC science-based guidance changes, our policy will adapt. Visitors have always been encouraged by DOI to review CDC guidance when making their plans to recreate responsibly. CDC guidance indicates that fully vaccinated people no longer need to wear a mask or physically distance in any setting, except where required by federal, state, local, tribal, or territorial laws, rules, and regulations. Unvaccinated people must wear a mask indoors in DOI buildings at all times and outdoors when physical distancing cannot be maintained. All people, regardless of vaccination status, are required to wear a mask on all forms of public transportation and in healthcare settings on DOI lands. We will continue to ask visitors to follow CDC guidance to recreate responsibly.
The latest information on changes to facilities and services in response to Coronavirus (COVID-19) is available here.
View the alert: BLM New Mexico COVID-19 Information Update
Brokeoff Mountains Wilderness Study Area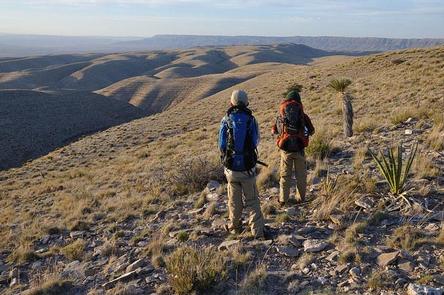 Address:
Las Cruces District Office 1800 Marquess Street Las Cruces, NM 88005-3371
Latitude/Longitude:
32.10251806, -104.983135
Directions:
From US Highway 285, take NM 137/Queens Hwy (12 miles northwest of Carlsbad, 23.5 miles south of Artesia) southwest for approximately 50 miles to El Paso Gap (about 12 miles past Queen, NM). Turn north onto Dell City Road, which becomes County Rd G14, and drive about 6ј miles to County Road G17, and turn left. Drive for about 5 miles on G17 (passing structures and beginning to climb uphill after 2ј miles) to County Road G13 and turn south. Drive south for ј mile where G13 becomes the WSA border for ѕ of a mile; the WSA will be on your right (to the west). Note: Signs in this area may be missing. Experience and skill in navigation are necessary to reach this WSA.
Brokeoff Mountains Wilderness Study Area
The Brokeoff Mountains WSA is located in southern New Mexico, contiguous with the Guadalupe Mountains Wilderness in Texas. The WSA consists of a low dominant north-south ridge cut by two canyons that run 500 feet deep. Elk winter in the WSA and cliffs, ledges, and rock outcrops provide suitable nesting and perching habitat for birds of prey. Vegetation includes Chihuahuan Desert scrub, cacti, agaves, soaptree yuccas, creosote bush, mesquite, semidesert grassland, and pines at higher elevations.