BLM New Mexico COVID-19 Information Update
The Department of the Interior's current COVID-19 policy incorporates CDC guidance. As CDC science-based guidance changes, our policy will adapt. Visitors have always been encouraged by DOI to review CDC guidance when making their plans to recreate responsibly. CDC guidance indicates that fully vaccinated people no longer need to wear a mask or physically distance in any setting, except where required by federal, state, local, tribal, or territorial laws, rules, and regulations. Unvaccinated people must wear a mask indoors in DOI buildings at all times and outdoors when physical distancing cannot be maintained. All people, regardless of vaccination status, are required to wear a mask on all forms of public transportation and in healthcare settings on DOI lands. We will continue to ask visitors to follow CDC guidance to recreate responsibly.
The latest information on changes to facilities and services in response to Coronavirus (COVID-19) is available here.
View the alert: BLM New Mexico COVID-19 Information Update
Antelope Wilderness Study Area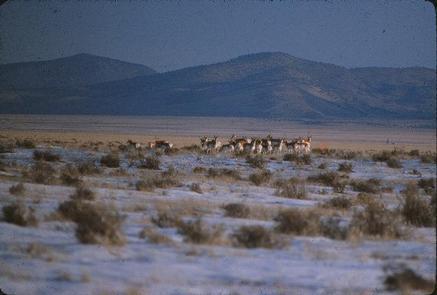 Address:
Socorro Field Office 901 South Highway 85 Socorro, NM 87801
Latitude/Longitude:
33.76174639, -106.7992869
Directions:
From Hwy 380, 7 miles east of I-25, turn right on County road 153 / Fite Ranch Rd (just after crossing an arroyo .2 miles past the end of the guardrail). Drive about 1.25 miles southwest on 153, then turn left (passing County Rd 158 on the right) to continue on County Rd 153 for about .5 miles and veer right to continue on County Rd 153 passing intersecting routes on the left to continue another .5 miles and turn right on an unmaintained unmarked road just past a red-roofed ranch house. Drive on this road for just over .5 miles and you'll be very near the northern border of the WSA. This road continues along the western border of the WSA for several miles.
Antelope Wilderness Study Area
The Antelope WSA is an open landscape that provides 360-degree views of rolling desert prairie. It is adjacent to the San Pasqual Wilderness, which is managed by the U.S. Fish and Wildlife Service. This area is home to both antelope and mule deer and boasts a mix of broom dalea and sand sage. The vegetation provides ideal raptor-feeding habitat.