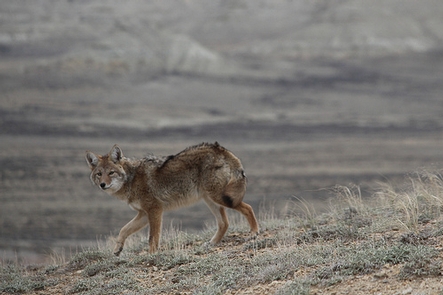 Address:
Rock Springs Field Office 280 Highway 191 North Rock Springs, WY 82901
Latitude/Longitude:
42.068423, -108.830291
Directions:
State Highway 28 east from Farson 15 miles turn south on county road 4-21. In approximately 25 miles the county road will become the north boundary.
Alkali Draw WSA
The Alkali Draw WSA encompasses 16,990 acres of BLM-administered land and 640 acres of state land. The study area includes a portion of the Red Desert Area. Alkali Draw in the main drainage running eastwardly from the Bush Rim and Steamboat Mountain. A series of smaller draws creates a washboard topographic effect. Big sagebrush and grease wood are the principle vegetative species.
This area offers primitive and unconfined recreation such as hiking, horseback riding, camping, photography and sightseeing. Some small caves are found in the area and offer opportunity for recreation. The rims and cliff escarpments provide some non-technical climbing opportunities and challenging hikes. This is a fee-free area. Portions of the boundary road area ADA accessible.
BLM WYOMING KNOW BEFORE YOU GO