Alabama Hills National Scenic Area

The Alabama Hills are a formation of rounded rocks and eroded hills set between the jagged peaks of the Sierra Nevada and the geologically complex Inyo Mountains. Both geologic features were shaped by the same uplifting occurring 100 million years ago. The hills are located west of Lone Pine and are managed by the Bureau of Land Management.
Visitors enjoy touring film sites, photography, rock climbing, exploring natural arches, and viewing the swaths of wildflowers that bloom every spring. In March 2019, Congress designated the Alabama Hills as a National Scenic Area as a part of the John D. Dingell, Jr Conservation, Management, and Recreation Act.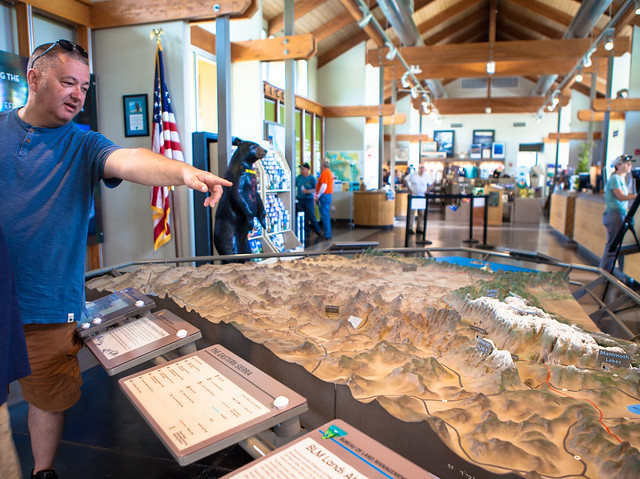 At the Eastern Sierra Visitor Center you can view Mt. Whitney, the highest peak in the "lower 48 states" and plan a trip to Badwater Basin in "Death Valley, the lowest place in North America. While you're here, explore our interpretative displays, book store and native plant garden.
Staffed by a combination of U.S. Forest Service, National Park Service, Bureau of Land Management, and Eastern Sierra Interpretive Association employees, we provide visitor information for wilderness, campground, highway and weather conditions for the Eastern Sierra.
Address
US-395 and CA-136, Lone Pine, CA 93545
Hours
May 1st – Nov 1st: Open Daily, 8AM – 5PM
Closed: Thanksgiving Day, Christmas Day, and New Year's Day.
Last permit issued and pass sold 15 minutes prior to close.
Directions
Located two miles south of Lone Pine, CA 93545, at the junction of U.S. 395 and State Route 136. No overnight parking.
For more information, please visit the Visitor Center webpage on the U.S. Forest Service website.
Don't recreate alone. Leave an activity plan with friends, family, or a ranger that details where you will be and when you expect to return.
Have a communication plan. Cell phone signals might not always be available.
Carry/ drink as much water as possible. At least one gallon per person per day is recommended.
Protection from the sun. Dress in layers, wear a hat, sunglasses, protective clothing, and sturdy footwear.  Bring warm layers and a waterproof shell on longer hikes - the weather can change quickly.
Know the trail.  Carry a map and pay attention to the terrain so you can find your way back.
Beware dangerous plants and animals.
Keep children near you and stay on the trail.
In an Emergency:  Inyo County Sheriff (760) 878-0383
Nearest hospital: Southern Inyo Hospital (760) 876-5501, 501 E Locust Street, Lone Pine, CA
Pack out all trash. There are no trash services.  In the high desert environment, even natural items like orange peels take years to decompose.
Travel on existing roads and trails. Vegetation in this climate can take decades to recover when crushed by off road driving or parking
Camp in campgrounds. Using campgrounds reduces the number of vehicles, so that the great views are not blocked.
Use the restroom in town or at nearby campgrounds. If that isn't an option, bury human waste in catholes 6 inches deep and 200 feet away from waters, trails and camp.  There are no restrooms in the hills.
Have a great time. The Alabama Hills are a great place to explore natural wonders and experience your public lands.
Tour film sites. Explore the locations of over 400 movies that have been filmed here.
Take pictures. The Alabama Hills scenery has been an inspiration for photographers for decades.
Have an adventure. Hike, fish, rock climb, explore natural arches, mountain bike, ride horses, view the wildflowers, or find your own adventure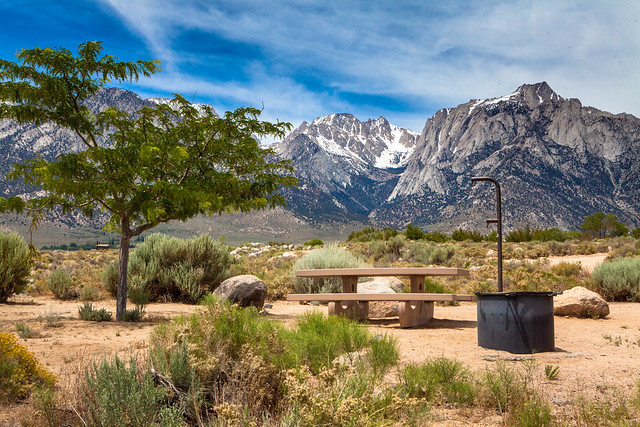 Camping in campgrounds helps maintain the great scenery and recreational opportunities. City of Los Angeles owned lands in the area are open for day use only.
Tuttle Creek Campground. Offers more than 80 sites for affordable camping with spaces for tents, RVs, and trailers.  The campground boasts views of Mt. Whitney, and has large campsites with plenty of space for longer vehicles.  Drinking water and restrooms are available. Tuttle Creek runs through the campground, providing fishing and birding opportunities.  
Portuguese Joe Campground and Lone Pine Campground. Located just east of the Alabama Hills
Camping outside of developed campgrounds in the Alabama Hills will be limited to areas shown on this map and marked with a campsite marker.  To control human waste, six porta potties have been placed in the Alabama Hills. Please either use these restrooms or pack out your solid human waste using a portable waste system (RV toilet, wag bag, etc.).
The indigenous people of this valley still reside in this place where their ancestors have lived for thousands of years. They ask that you respect and care for this land. Do not disturb or destroy anything that you may find.
Beginning in 1920, Hollywood filmmakers began to take an interest in the Alabama Hills for its natural scenery. Since then, over 400 movies have been filmed here.