BLM CO RGFO Dinosaur Flats Map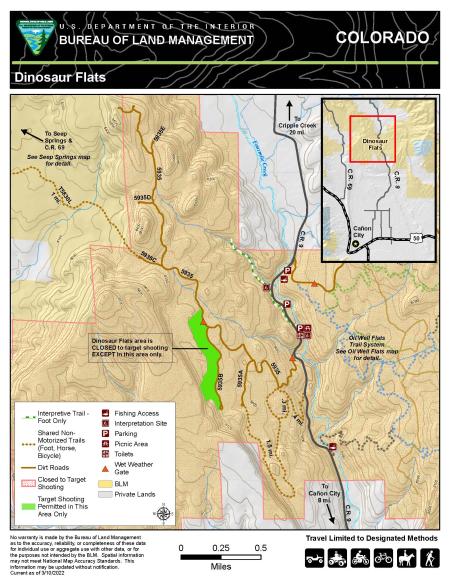 Dinosaur Flats is part of the Garden Park Fossil Area. Within it is an area open to target shooting with nine defined lanes. The lanes have a scenic backdrop consisting of colorful cliff faces spotted with piñon pine and juniper trees. Target shooters supply their own targets designed for firearms and must remove all targets, trash, and debris after shooting.  Beyond the shooting area, primitive roads lead to beautiful views of the Fourmile Creek Valley below. Dinosaur Flats is a multiple use area; please be prepared to share the area with cattle.
Dispersed camping is permitted; however, toilet and trash services are not available. Visitors must pack out all waste. The area may be closed at a wet weather gate to restrict motorized use during wet conditions. For more information, please contact the Royal Gorge Field Office at (719) 269-8500.
Files
Publication Date
Sun, 08/07/2022
Organization
Collection: Public Room
Category: Map
Keywords
Recreational Shooting
Camping