Volunteers welcome at National Public Lands Day projects in King Range NCA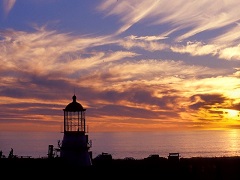 Volunteers are welcome to help the Bureau of Land Management spruce up parts of the King Range National Conservation Area, in upcoming events commemorating National Public Lands Day. Projects will include mountain bike trail maintenance, invasive plant removal and planting native plants. The BLM will provide gloves, tools and materials for all projects. 
Projects include:
Lighthouse spruce-up, Saturday, Sept. 14: Volunteers will meet at 10 a.m. at the Cape Mendocino Lighthouse in Mal Coombs Park, to remove invasive ice plant and other invasive weeds in the native plant garden. A barbecue lunch and tide pool exploring follow the workday.
Paradise Royale workday, camping and ride, Saturday, Sept. 28: Mountain bike enthusiasts and others will complete maintenance on the Paradise Royale Mountain Bike Trail. Interested volunteers should meet at 10 a.m. at the Tolkan Campground on King Peak Road.  The BLM will offer free camping and a barbecue dinner after the workday.  There will be riding opportunities on Sunday, Sept. 29.
Native plant garden improvement, Saturday, Nov. 2: Those who love native plants will meet at 10 a.m.at Black Sands Beach overlook in Shelter Cove, to work in the native plant garden along the BLM's National Conservation Land walkway. Workers will replace invasive plants with native species.
"We have something for many interests and abilities," said King Range NCA Manager Greg Wolfgang. "These projects are great ways to connect with nature while improving the public lands we all cherish."
National Public Lands Day, officially observed this year on Sept. 28, is the largest single-day event on America's public lands. Information on local events is available from BLM-Arcata, 707-825-2300.
 
---
The BLM manages more than 245 million acres of public land located primarily in 12 western states, including Alaska, on behalf of the American people. The BLM also administers 700 million acres of sub-surface mineral estate throughout the nation. Our mission is to sustain the health, diversity, and productivity of America's public lands for the use and enjoyment of present and future generations.
Organization
Bureau of Land Management
Office
Northern California District Office
Contacts
Related Content